This page is unofficial. The information has been obtained from printed timetables and other local sources (like taking the bus) and is given in good faith.


CONNECTIONS SUMMARY
Long distance to Lisbon and beyond

There are connections at many locations for long-distance buses (coaches) between Algarve towns and Lisbon etc – website for long distance services is www.rede-expressos.pt for times and ticket sales. As of 31st March 2021, tickets are on sale only up tp SEVEN days in advance. I have some timetables here.

Most of the towns and larger villages have between 4 and 6 journeys a day to Lisbon. Larger towns eg Faro and Albufeira will have around 15 daily journeys to Lisbon. The journey is between 3 and 4 hours depending on where you are. One-way adult fare to Lisbon is about €22 from most places in the Algarve. These long-distance buses (coaches) do not carry local passengers within the Algarve area.
There are also direct services to Évora, Fátima, Coimbra and more distant parts but these may run only once a day. International routes, operated by four different companies, operate connect the major Algarve towns with Spanish destinations for example Huelva Seville and Malaga etc.

FOR THE BUSES (COACHES) BETWEEN THE ALGARVE AND SPAIN (SEVILLE) – CLICK HERE
Local buses from the various towns and cities

These are the main local connections – beware that service on many routes is infrequent and irregular especially at weekends, please check times.
For a list of all the timetables on the site, please click here. For a diagram of the bus routes in the Algarve, click here

For an alphabetical list of all places served please click here


As of 11th October there is no weekend service on these routes. A limited service is operating daily on other routes.

At Lagos for Sagres and Cape St Vincent, also Luz, Burgau and Meia Praia, to Aljezur and Odeceixe

At Portimão for Lagoa, Silves, Messines, Monchique, Ferragudo and City local buses to Praia da Rocha, Praia do Vau, Alvor etc
At Lagoa for Silves and Messines, Carvoeiro and Praia do Carvalho
At Armaçao de Pera for Silves

At Guia for Algoz and Messines

At Albufeira for Galé, Açoteais, Falesia, Silves, Paderne, Messines, Loulé also local town (GIRO) buses
At Quarteira for Loulé
At Almancil for Loulé, Vale de Lobo

At Faro for Loulé, Olhao, Estoi, São Bras de Alportel, Tavira, Monte Gordo and Vila Real de Santo António
At Faro for the Airport
TRAINS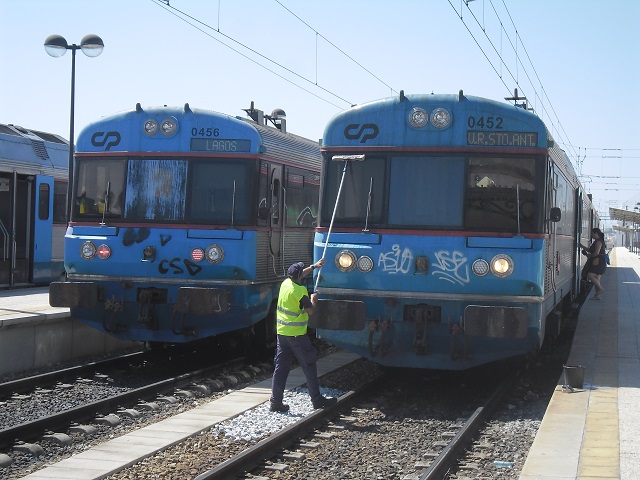 The railway line does not offer a good service for the main resort areas (eg Albufeira, Vilamoura) between Faro and Portimão. It runs some way inland. For example the station called Albufeira is some four miles/6km from the town! However, trains are faster and more regular than buses between Faro and the Eastern Algarve and also between Faro, Lagos and Portimão. Trains operate later into the evening than buses and depending on where you are staying, may offer a viable alternative to the bus. Train fares/ticket prices are often cheaper than the bus. For details of the train service in the Algarve, please click here.

Back to the main page here
www.algarvebus.info