Albufeira <> Fonte de Boliqueime <> Loulé <> Faro

View and print this timetable as a PDF file here
The information has been obtained from printed timetables and other local sources (like taking the bus) and is given in good faith.
Correct to the best of my knowledge as of 11th December 2017 checked on official websites and in person

For the complete service and intermediate times between Loulé and Faro please click here
THE BUSES BETWEEN LOULÉ AND FARO STOP AT MAR SHOPPING / IKEA. SOME DIRECT JOURNEYS TO
OR FROM ALBUFEIRA ARE NOW POSSIBLE. OTHERWISE CHANGE AT LOULÉ
For the direct service between Albufeira and Faro via the A22 motorway please click here

Daily – bus runs every day including Sundays and Holidays
MFO – runs Mondays to Fridays only, except holidays.
SAT - runs on Saturdays only, except holidays SCH - runs on schooldays only
SSH - runs on Saturdays, Sundays and Holidays only

Days of operation





MFO

SCH

SCH

MFO


Daily



MFO

SAT

SSH

MFO
SCH

MFO

SSH

MFO


SCH

MFO

SSH


MFO



Bus starts from



---

---

---

---


PMO



---


PM




PM



---

---

---


PM



---

---

---

---


PM



---

Albufeira Bus Terminal

E

---

0700

---

0800

0845

1015

1015

1205

1205

---

1430

1615

1625

---

---

1840

1915

1915

Montechoro (X)

C

---

0706

---

0806

0851

1021

1021

1211

1211

---

1436

1621

1631

---

---

1846

1921

1921

Ferreiras - Fontainhas

D

---

0709

---

0809

0854

1024

1024

1214

1214

---

1439

1624

1634

---

---

1849

1924

1924

Patã de Cima




XXX



0712

---

0812

0857

1027

1027

1217

1217

---

1442

1627

1637

---

---

1852

1927

1927

Fonte de Boliqueime

A

0702

0717

0718

0817

0902

1032

1032

1222

1222

1250

1447

1632

1642

---

1715

1857

1932

1932

Vale Judeu



via

|

0728

0826

|

|

|

|

1231

via

|

|

|

---

1725

|

|

---

Quatro Estradas

B

Parragil
0732

0739

0837

0917

1047

1047

1237

1242

Parragil

1502

1647

1657

---

1736

1912

1947

---

Loulé Bus Terminal arrive



0745

0740

0747

0845

0925

1055

1055

1245

1250

1317

1510

1655

1705

---

to

1920

1955

---

Loulé Bus Terminal leave



---

---

0800

0900

0930

---

1100

1245

Y

Y

---

1700

Z

---

Almancil

1920

2000

---

Faro Bus Terminal



---

---

0840

0940

1010

---

1140

1325

Y

Y

---

1740

Z

---

---

2000

2040

---







































ADDITIONAL BUS WEEKDAYS ONLY . VALUE JUDEU 0755, QUATRO ESTRADAS 0805 TO ALMANCIL ARR 0822
Notes A - this stop is on the N125 at the roundabout; Boliqueime village is about 1/2 mile (0.8km) away.
B - there are other buses between Quatro Estradas and Loulé - click here for times C - this stop is on the Estrada Vale das Pedras to the north of the Montechoro Hotel
D - the stop is on the 'bypass' about 300 metres from the village. E - Albufeira bus terminal is 1 mile / 1.6km from the old town and beaches. Taxis and local buses available


PMO

- bus starts from Portimao on Saturdays, Sundays and Holidays.

PM

- from Portimão See timetable 002e


XXX on Schooldays change bus at Parragil. During school holidays leaves at 0715 and runs through to Loulé.

Y - a connecting bus leaves Loulé for Faro at 1330 arriving at 1410 Z - a connecting bus leaves Loulé for Faro at 1730 arriving at 1810












































Days of operation





MFO

MFO

SCH

SSH

MFO


Daily



MFO


---



SAT

MFO

SCH

SSH


SCH




MFO



SCH

MFO

SSH

MFO

Faro Bus Terminal



---

0700

---

0715

0810

1015

1130

---

1245

1300

---

1435

---

1600

---

1715

1745

1830

Loulé Bus Terminal arrive



---

0740

---

0750

0850

1055

1210

---

1325

1340

---

1515

---

1640

from

1755

1825

1910

Loulé Bus Terminal leave



---

0740

0755

0800

0900

1100

1210

---

1325

1340

1410

1515

1600

1640

Almancil

1815

1825

1920

Quatro Estradas

B

---

0750

via

0808

0908

1108

1218

---

1333

1348

via

1523

via

1648

1725

1823

1833

1928

Vale Judeu



---

0801

Parragil

|

|

|

1229

---

|

1359

Parragil

|

Parragil

1659

1735

|

|

1939

Fonte de Boliqueime

A

0710

0811

0820

0823

0923

1118

1238

---

1348

1408

1436

1538

1626

1708

1745

1838

1848

1948

Patã da Cima



0715

0816

---

0828

0928

1123

1243

---

1353

1413

---

1543

---

1713

---

1843

1853

---

Ferreiras - Fontainhas

D

0718

0819

---

0831

0931

1126

1246

---

1356

1416

---

1546

---

1716

---

1846

1856

---

Montechoro (X)

C

0721

0822

---

0834

0934

1129

1249

---

1359

1419

---

1549

---

1719

---

1849

1859

---

Albufeira Bus Terminal

E

0727

0828

---

0840

0940

1135

1255

---

1405

1425

---

1555

---

1725

---

1855

1905

---

Bus destination



---

---

---

PM

---


PMO



---

---


PM



---

---


PM



---

---

---

---


PM














































Notes

A - this stop is on the N125 at the roundabout; Boliqueime village is about 1/2 mile (0.8km) away.
B - there are other buses between Loulé and Quatro Estradas- click here for times C - this stop is on the Estrada Vale das Pedras to the north of the Montechoro Hotel
D - the stop is on the 'bypass' about 300 metres from the village. E - Albufeira bus terminal is 1 mile / 1.6km from the old town and beaches. Taxis and local buses available


PM

- bus continues to Portimão - see timetable 002w.

PMO

- bus continues to Portimão on Saturdays, Sundays and holidays

Timekeeping is affected by traffic congestion in Faro especially at rush hours. The buses make a circuit of Faro and they are not allowed sufficient time.
The 1600 and 1715 buses from Faro to Albufeira are notorious in this respect (from personal experience) and are usually 15 - 20 minutes late by the time they get to Loulé.
They are also VERY overcrowded on schooldays - you will literally have to fight your way on board at Loulé. You have been warned!

BUS STOPS IN LOULÉ
Loulé has a fun one-way traffic system and the buses stop at different places inbound and outbound.

Click here for a map of Loulé centre showing the bus stops and the two market locations. Will open in a new window.

Loulé indoor market and Praça Republica - click picture to see full size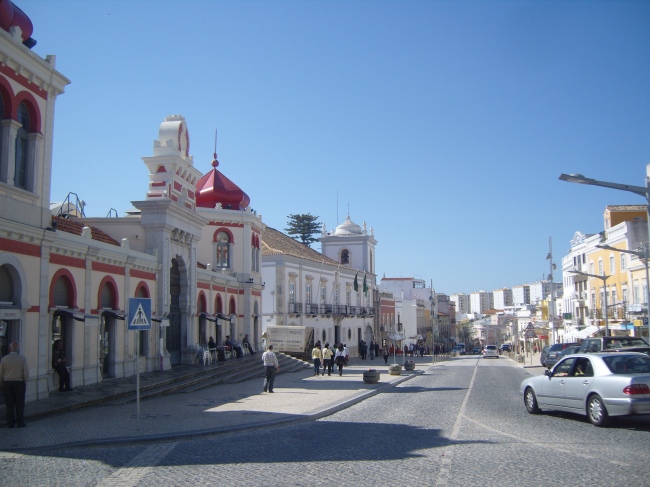 Back to the main page here
www.algarvebus.info