Albufeira Giro Bus Route 11
Bus Station > Brejos > Torre da Mosqueira > Fontainhas > Vale Serves > Albufeira / Ferreiras Railway Station > Ferreiras > Malhada Velha >

Ferreiras > Camping Albufeira > Old Town (Avenida da Liberdade) > Câmara > Bus Station
Route 5 runs in the opposite direction but does not stop at neither Avenida da Liberdade nor the Câmara

The information has been obtained from personal use (like taking the bus) and is given in good faith.
Official timetable and route map click or tap here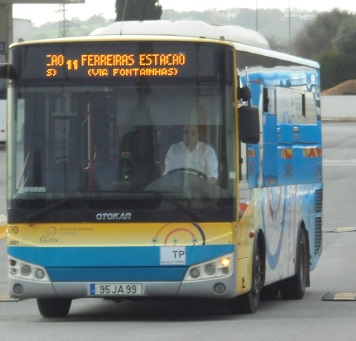 (The current timetable indicates that there may be later buses in summer. We shall see!)


WEEKDAYS- bus runs Mondays to Fridays (weekdays) only except holidays
SATURDAYS, SUNDAYS AND HOLIDAYS - bus runs Saturdays, Sundays and Public Holidays
GIRO TICKETS AND PASSES ARE NOT VALID ON VAMUS BUSES AND VICE-VERSA
ADVICE TO ARRIVING TRAVELLERS! CONTACTLESS PAYMENTS ARE NOT CURRENTLY ACCEPTED ON BOARD.
CASH FARE TO / FROM ALBUFEIRA IS €2,40

Operated by Grupo Barraqueiro under contract to Albufeira Council
Daily – bus runs every day including Sundays and Holidays


Infos en français, auf Deutsch, em Portugues içi, hier, aqui





Buses every 30 minutes on weekdays between the Railway Station and Bus Station.



The weekday and weekend buses from the bus station at 1230, 1730 and 1830 also go via Mosqueira and Fontainhas

CONNECTIONS WHEN ARRIVING IN ALBUFEIRA
Regional bus service to and from the bus station for other towns and villages is operated by VAMUS, details here
All local GIRO bus routes start and end at the main Bus Station. Last buses in winter on all routes leave between 1900 and 1930.
Other places you can change buses :

The stop at Brejos Sul offers connections with route 6 from Santa Eulália, Balaia, Olhos D'Agua and Rocha Baixinha.
Also connects with Route 9 at Brejos Sul from Patã de Baixo, Vale Navio, Corcovada and the 'strip' area.
At the Avenida da Liberdade you have route 3 to the Marina and Route 9 to Páteo and Vale Santa Maria
At the Cãmara, route 2 towards Oura and Santa Eulália, route 4 towards the 'strip' area and route 10 down into the old town centre.
Changing bus at these places, if convenient, could save some time. Use the links below to find times and route details.

Links to timetables on other Giro routes below. For an overview of the system, including maps and fares, click or tap here.