Albufeira Giro Bus Route 3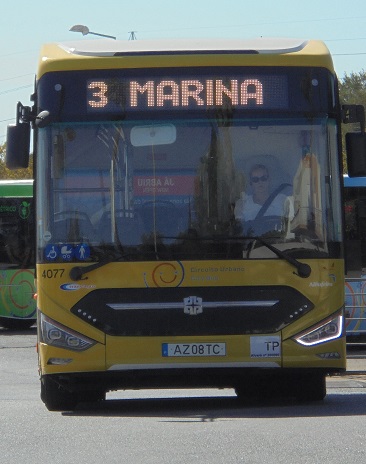 Bus Station - Camping Albufeira - Old Town Avenida da Liberdade - Dolphins - Marina - Dolphins -

Old Town Avenida da Liberdade - Cerro Malpique - Câmara (Town Hall) - Bus Station

Some journeys go through Páteo then down the hill to Patroves before the Marina
The information has been obtained from personal use (like taking the bus) and is given in good faith.
Official timetable and route map click or tap here

Operated by Grupo Barraqueiro under contract to Albufeira Council
Daily – bus runs every day including Sundays and Holidays

Infos en français, auf Deutsch, em Portugues içi, hier, aqui
The marina bus stop location can be seen on this little map. This bus stops outside the fortnightly Albufeira outdoor market near the marina
GIRO route 9 is the main service through Páteo to and from the town, one bus each hour every day
Routes 5 and 7 also run between the Bus Station and Camping Albufeira. Route 7 runs direct between the Marina and the Bus Station
Route 11 provides a direct bus from Camping Albufeira to the Avenida da Liberdade.
Use the links below for times and route maps.

Links to timetables on other Giro routes below. For an overview of the system, including maps and fares, please click or tap here.