General Information about buses in the Algarve

The information has been obtained from printed timetables and other local sources(like taking the bus)and is given in good faith.
Bus operations in the Algarve are possibly quite different from what you may be used to back home!
In particular, the buses running between various towns do not have route or line numbers.

Click here for a list of all the timetables on the site; please first read the various notes on this page.
An alphabetical list of all the places included in the timetables is here.
A diagram showing the train and bus routes in the Algarve is here

Operators, route/line numbers
The EVA bus company operates most inter-urban bus services in the Algarve. Their buses are predominantly white with green and yellow trimmings.

In the west, particularly around Portimão, some buses are operated by Frota Azul (Algarve). Their buses are mostly white with blue and green trimmings. All the buses in regular use are modern air-conditioned vehicles.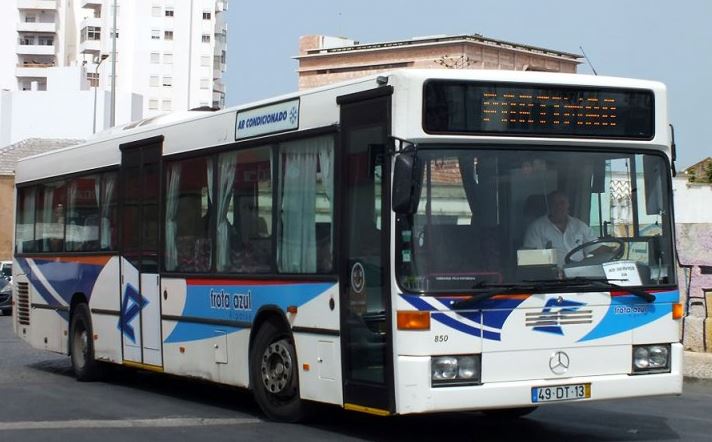 To slightly confuse the issue, the companies do often use each others buses and you may see a sign 'Em serviço de EVA' as well as the destination. Local buses (Urbanas or City buses) in the main cities or towns are run by a number of different companies.

Apart from local city/town services, buses do not carry route/line numbers as they do in most other parts of the world. No I don't know why not. You therefore need to check the destination display on the front of the bus, which is often just a paper sign pinned in the driver's window.
Almost every bus driver in Portugal has the radio on during the journey. Too bad if you don't like their choice of music, but most of the time it's OK!
Different types of service - Algarve buses
There are four different types or operations of bus on rural and interurban services. In the major towns and cities, the local city or urban mini-buses may operate along the same roads as EVA or Frota Azul, but fares are different and tickets are not generally inter-available.

TRANSRÁPIDO (picture below) runs as an express service the length of the coast between Faro and Lagos. It stops only at the places shown in the timetable plus the Algarve Shopping mall near Guia. Transrápido buses carry a sign in the driver's window and they are identifiable by the paintwork! Download and print the latest timetable. Transrápido buses are fitted with wifi for those who must be on line 24/7.


TOILETS - or lack of! Transrápido buses do NOT have toilets on board and neither is there sufficient time at any stop to use one. So if you are travelling the whole way, make sure you go before getting on! This may be an issue at Armação de Pera and Guia where there is no bus terminal building and therefore no toilets nearby!
DELAYS - Transrápido buses are frequently delayed by traffic. Anticipate delays of 15 - 20 minutes on all the Transrápido buses and also on the buses between Albufeira and Lagos, even at weekends! These delays are a combination of unrealistic timetables and heavy city traffic.

ALBUFEIRA - LAGOS (Linha Littoral) route runs as a limited-stop service between Lagos and Albufeira. If two buses arrive at the same time to the same destination, you may need to ask the driver which one he is! Some buses continue to and from Albufeira to/from Faro via Vilamoura or Loulé although this is not advertised. I have included details in the relevant timetable pages. These buses are also often delayed by traffic.

INTERURBANAS (Interurban) are the 'normal' buses between all the main towns and to the surrounding areas. Between Faro and Albufeira several buses on weekdays (ie Mondays to Fridays) are labelled 'DIRECTA' and miss out some stops, notably between Albufeira Bus Terminal and Modelo, in the outskirts of Vilamoura and the outskirts of Faro. The differences in stopping places between the NORMAL and DIRECTA routes are detailed here. There are also some 'Directa' runs between Faro and Olhão. Yes I know it would be easier if there were route numbers! NB - there are NO LOCAL BUS SERVICES AT THE AIRPORT except for a local bus into Faro city centre - details here.

LOCAL BUSES AND MINIBUSES IN THE MAIN TOWNS
Several towns have local city (Urbanas) mini-buses operated or sponsored by the city or town council. I have included details for Faro, Albufeira , Lagos and Portimão in these pages and links on the alphabetical index page to the local council website for the timetables for the Loulé and Quarteira services. I have included brief details of the operations in Olhão and Tavira in the relevant pages. There is also a local bus running between the airport and Faro city centre - details here.

Express buses (coaches) to and from Lisbon etc.

All towns and many villages have express buses (coaches) to and from Lisbon and further afield. Larger places eg Faro, Albufeira have 12 to 15 departures a day. Smaller places might have only 2 or 3.


I have listed some timetables for Rede-Expressos here but check their website for changes also service at other locations. The website is available in English.


These long-distance services are operated REDE EXPRESSOS but you will sometimes see 'borrowed' vehicles in other companies colours. You should reserve a seat in advance for all long-distance buses, especially at weekends and around holidays. Tickets can be bought from the various offices and agents around the Algarve. There is a list of EVA and Frota Azul ticket offices, with opening hours in English, on their website here.


Rede - Expressos stops in larger towns will be the main bus station, but elsewhere it may be just an ordinary bus stop by the side of the road. The Rede Expressos website does have a system of maps showing stop locations and local ticket sales offices and agents. Beware that in Lisbon two different bus stations are used. Some journeys to or from the Algarve use both, but most use one or the other. These are ORIENTE which is out in the north-eastern suburbs near the airport and SETE RIOS which is to the north-west of the city centre.


Both of these are several km from the city centre, but have metro (underground railway) stations adjacent for the final part of your journey. Sete Rios has fairly infrequent but direct bus connection by Aerobus Line 2 to and from the airport - details here. Aerobus vehicles have a dedicated space for large bags etc.


The Lisbon metro goes to the airport direct from Oriente train and bus station in about 5 minutes, trains run every few minutes 6am - 1am. From Jardim Zoológico station (at Sete Rios) it takes about 25 minutes to the airport with one change of train required, at São Sebastião station. The metro is cheaper than the Aerobus.

Ticket offices in Algarve bus stations etc are NOT open 24 hours. If your bus / coach leaves late at night or during the early hours of the morning, you will need to buy a ticket in advance or from the Rede Expressos website. You can get times and buy tickets at www.rede-expressos.pt. You cannot buy tickets from the driver for long distance trips. These services do not carry local passengers in the Algarve, except on the route out of Lagos towards Aljezur etc where no other services exist.


It will cost about €22 to get to Lisbon from anywhere in the Algarve. A round-trip (return) fare is slightly less than the cost of two singles. The journey is around 3 hourss from Albufeira and obviously more the further afield you are.





Trains run locally along the Algarve coast, also to and from Lisbon - click here for information.



Bus Stops and Bus Stations / Terminals
Stopping places are clearly indicated with signs of various types.

PARAGEM is the Portuguese word for bus-stop; helpfully many signs also display 'Bus Stop' in English. In rural area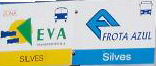 s, the bus stop sign may be only on one side of the road. The bus will stop on the opposite side if you are waiting. All bus stops are REQUEST stops. If you are waiting at a stop, give the bus driver a clear signal as the bus approaches. If you are on the bus and wish to get off, ring the bell in good time before your stop. In some towns stops used by local buses have their own design. Those pictured to the left are of the EVA and Frota Azul buses that connect the different towns and villages.
Most of the larger towns have a bus station or terminal, ranging from the large busy bus stations in Faro, Lagoa and Albufeira, down to simple waiting shelters, for example in Silves. These are usually at the edge of town, as the roads in the town centres are either too narrow or too busy to accommodate buses.

The bus terminal in Albufeira is about a mile/1.6km from the old town centre and major hotel areas. If arriving from the west, north or on Transrápido from Faro, you will need another bus, a taxi or maybe 15 minutes walk to reach the old town centre and beaches. Local buses from the east (eg Faro, Quarteira, Vilamoura, Olhos D'Agua) pass through town and it's best to get off near Modelo supermarket before you end up in the middle of nowhere. Click here for more information about the bus terminal and ways to get into town.
The bus terminal in Faro is in the centre of town and 150 yards/metres from the railway station. The bus terminal in Tavira is three minutes walk from the town centre.

The bus terminal in Loulé is about four minutes walk from the main shopping area, indoor market and town centre. Most buses also make a stop in the town centre near the indoor market. The stop at Silves has no office, there is an enquiry office/agency nearby at the municipal market building. Portimão has an outdoor bus station for local and regional services - click here for more information. A separate bus station in Portimão is used by long distance and international bus / coach services. This is about 1.5km or nearly a mile from the city centre. Information here .At Lagos, the bus terminal is a few minutes walk from the historic town centre and about five minutes walk from the railway station and marina, which are on the other side of the river.

Fares and Tickets
IMPORTANT! When boarding at a BUS STATION/BUS TERMINAL you must usually buy your tickets at the ticket office window.

BUS COMPANIES DO NOT ACCEPT CARD PAYMENTS ON BOARD THE BUS OR AT THE TICKET OFFICES.

Allow a few minutes for buying tickets at the ticket office, especially at Faro! Ticket prices are available at the EVA BUS website or the Frota Azul website, depending of course which company operates the route in question. There is a list of EVA and Frota Azul ticket offices, with opening hours in English, on their website here.

If boarding elsewhere or when the ticket office is closed, have small change ready and pay the driver as usual. For our North American readers drivers will make change, but they will not thank you if you hand over a €50 note! Even the longest journey here will cost only €6.20.
Sample bus fares for adults : Faro to Lagos - €6.20; Albufeira to Portimão and Praia da Rocha - €4.85, Albufeira to Alvor - €4.95, Albufeira to Lagos - €5.80; Albufeira - Faro €4.95; Albufeira to Armação de Pera and Vilamoura €4.30; Portimão - Silves, €3.40; Portimão - Lagos €4.30; Albufeira to Silves, Quarteira or Loulé €4.55; Monte Gordo to Tavira €4.30, Monte Gordo to Vila Real €2.35, Monte Gordo to Faro €5.75, Tavira to Faro €4,55.

Trains are often cheaper than buses where they offer service between the same towns, except Faro - Lagos, but those trains are 30 minutes quicker and more frequent!
Pre-paid rechargeable ticket cards - EVA and Frota Azul buses

If you are staying a while and intend to make the same journey during your stay five or more times, it may worth investing in a pre-pay card. This rechargeable card stores a set number of journeys in either direction between two points. It saves money (in many cases as much as 50%) and queuing time, but you do have to pay a €3.00 fee for the card. You can buy the cards from any bus station. Separate cards are also available for the local city buses not operated by EVA, for example the GIRO service in Albufeira. You can get your money back for the card if you hand it in at a bus office before leaving. You can of course keep it for next year.

On EVA and Frota Azul, you can use a pre pay card for any journey that costs the same or less. It is not restricted to journeys between two places. Check the fare payable on the official website before travelling - EVA --- FROTA AZUL On boarding, place the card on the ticket machine pad, count three and your ticket is automatically printed.

Monthly Season tickets EVA and Frota Azul buses

EVA and Frota Azul reduced the price of monthly passes. There is now a maximum cost of €40 per month for any journey. That's is primarily aimed at commuters, who would therefore pay an average of €2 a day to get to and from work. For long stayers who may be using their buses frequently, this may be of value. These passes can be obtained from any bus station ticket office. Photo is required.

CHILDREN - those aged between 4 and 12 pay half fare on EVA and Frota Azul buses, but those aged 13 or over have to pay full fare unless they have a 'school pass', so in effect that's for residents only. Children using local buses around the main towns (eg GIRO in Albufeira) normally pay full fare - child discounts are again only available to residents. Children aged under 4 years travel free.

SENIORS - discounts are often available only to residents. Buses are not free here for seniors as in many European countries. You need to be 65 or over to get senior discount here. You will need to ask at a local bus station or ticket agent what senior discounts are available, fill in a form, provide proof of age and a passport size photo. A typical senior pass costs €5 for the card itself then €11 a month for unlimited travel, for example on Albufeira's local GIRO buses. For the buses between towns and villages operated by EVA and Frota Azul, all passes and tickets (except the tourist passes) are for travel only between two specific places.

Tickets and passes are not interchangeable between different operator's buses, except the Algarve tourist pass, which can be used on EVA and Frota Azul buses. All the urban buses require a different ticket or pass.

Fares on local networks

The local bus systems in and around Albufeira, Faro, Lagos, Loulé, Quarteira, Tavira and Vilamoura have different fares and do not accept EVA or Frota Azul tickets, nor vice-versa. All offer pre paid multi journey passes and monthly season tickets.

TOURIST PASSES FOR ALGARVE BUSES

These are available as three day versions at €30,50 and seven days for €38,20. Days must be consecutive. They can be bought at any bus station ticket office. They are valid on ALL buses operated by EVA or Frota Azul listed in timetables on this site. They are NOT VALID on EVA, Rede-Expressos or other long distance services, international services nor on the local urban buses in Lagos, Portimão, Albufeira, Loulé, Vilamoura, Quarteira, Faro and Tavira. The local buses in those towns have their own day passes, multi-ride tickets and season tickets for frequent or regular users.

Timetables
Timetables are, in many places, not displayed at bus stops especially in rural areas. Even at Bus Terminals, you may find only a list of departures to principal destinations. That's one of the reasons for my making these pages! Printed timetables are usually available at the Enquiry Desk or Ticket Office. English is spoken at most locations but it is polite to ask first! The EVA and Frota Azul bus company websites do have a timetable search facility, but not all routes and destinations are included.

Bus Service Start and Finish Times
Portugal uses the 24 hour clock - all timetables are in the 24hr clock format. 1300hrs = 1pm, 1400hrs = 2pm etc.

Many bus routes are operating a very limited timetable until further notice, especially at weekends and on public holidays.

In general, bus services linking the various towns and villages in the Algarve start around 0700hrs on weekdays and finish by 2030hrs, which means that, in most places, last buses are on their way around 1930hrs. On Saturdays, Sundays and holidays first buses are generally fairly early, but there are a lot fewer buses than on weekdays. Last buses are often earlier than weekdays. Many villages out in the countryside have no buses at all at weekends or on public holidays, but the main inter-urban routes do have weekend and holiday service, albeit at reduced levels.
There are often long gaps in service on Saturday afternoons and on Sundays. Buses do not usually run at regular intervals ie at so many minutes past each hour. Buses away from the main coastal tourist areas are mostly few and far between, as they cater for local needs of schools and shopping. You are strongly advised to double-check the times of last buses back if you are off hiking in the hills.

Point-to-point timings and fares for EVA services from the main towns can be checked and official individual timetables downloaded on their official website at http://www.eva-bus.com/ and Frota Azul has a similar website.
The local city buses (GIRO) in Albufeira mostly operate until 2200hrs during the summer (1st June to 30th September) and until 2000hrs for the rest of the year. Buses between Portimão and Alvor also Portimão and Praia da Rocha run until about 2000hrs all year. There is a late night service between Portimão and Praia da Rocha during the summer. The Lagos area has local buses until midnight on some routes during the summer, otherwise service ends around 2000hrs. Weekend and holiday service on the urban routes in Lagos and Portimão has been reduced in recent years. Check carefully as many routes do not operate except on weekdays.

In other cities and towns, local buses usually operate between about 0700hrs and 1900hrs on weekdays and between 0700hrs and 1400hrs on Saturdays. They either run very limited schedules or not all on Saturday afternoons, Sundays or holidays. Details and links to timetables are included within the various sections of my website.

What days do the buses run?
Many bus journeys do not run every day. In the various timetable pages, there are column headings, colour highlights and notes to indicate the days a particular bus runs. In one or two cases, there are separate sections for weekday and weekend services where the times are very different, but on most pages there is one table for the whole service.
These codes and information en Français, auf deutsch, em Portugues please click here
Daily – runs every day including holidays (NB - buses and trains DO RUN on Christmas Day, New Year's Day etc)
MFO – Mondays to Fridays (weekdays) only; does not run on Saturdays, Sundays or Holidays
SSH – runs on Saturdays,Sundays and Holidays only
SHO – runs on Sundays and Holidays only
SHX – does not run on Sundays or Holidays
SAT – runs on Saturdays only except holidays
SCH – runs on SCHOOLDAYS only ie will not be running in July and August, nor during Christmas and Easter breaks or on Public holidays.
NSC - runs weekdays but during School Holidays only
XXX – used where bus runs only on certain days that do not fit into these headings – look for a special note.

PORTUGUESE HOLIDAYS 2019 - details here.

I have tried to be consistent with these headings in all the pages. Apologies if I fail anywhere.
Travelling at school times?
A word of 'warning' - between 0800hrs and 0900hrs also between 1630hrs and 1700hrs on schooldays, buses to/from the main towns are VERY crowded with schoolchildren and older students on their way to and from school/college. In some areas schools operate early and late 'shifts' (because of overcrowding) and you may get an extra 'rush hour' around 1300hrs, for example in Lagos.

I personally have experienced this at Loulé on the 1340hrs and 1640hrs buses to Albufeira and also the 1655hrs from Silves to Albufeira. You may have to stand for a while - no they are as unruly as in any other country!

The good news is that schools are closed during the main holiday season of July to early September, for two weeks at Easter and for two weeks over Christmas and New Year.

www.algarvebus.info