LONG DISTANCE BUS (COACH) STATION IN PORTIMÃO - INFORMATION
The information has been obtained from printed timetables and other local sources (like taking the bus) and is given in good faith.
I will be checking this page week commencing 19th October.It is many months since I have had any reason to go to Portimão.


A separate bus station in Portimão, to the north of the city centre, is used by all LONG DISTANCE buses (coaches) to and from Lisbon, Seville etc.
Regional and local buses continue to use the stops in Avenida Guanaré by the river.

The facility is located in Rua da Abicada near the Portimão Arena. Map here. NB there is no 'shortcut' between the railway station and bus station.
Local 'Vai e Vem' bus routes 31, 32 (weekdays) also 37 (weekends and holidays) stop at this bus station. Separate ticket is needed.Timetables
here
There is a taxi rank directly outside the bus station.
There is NO signposted walking route to or from this location. The walking route on my map is about 12 minutes walk, flat and alongside the river.
If you don't want to pay for a taxi to travel 1.5km (a bit less than a mile) and don't mind a walk, here's how to do it from the place where local buses stop and most of the city centre. It is flat and not unpleasant while you go alongside the river.
First head towards the two bridges, following the obvious marked paths by the river. Go under the first (road) bridge then under the second (railway) bridge.
You will see a vast almost deserted car park just to the left of you. Walk up the short ramp. Aim for the left hand end of the big shiny building of the Portimão arena.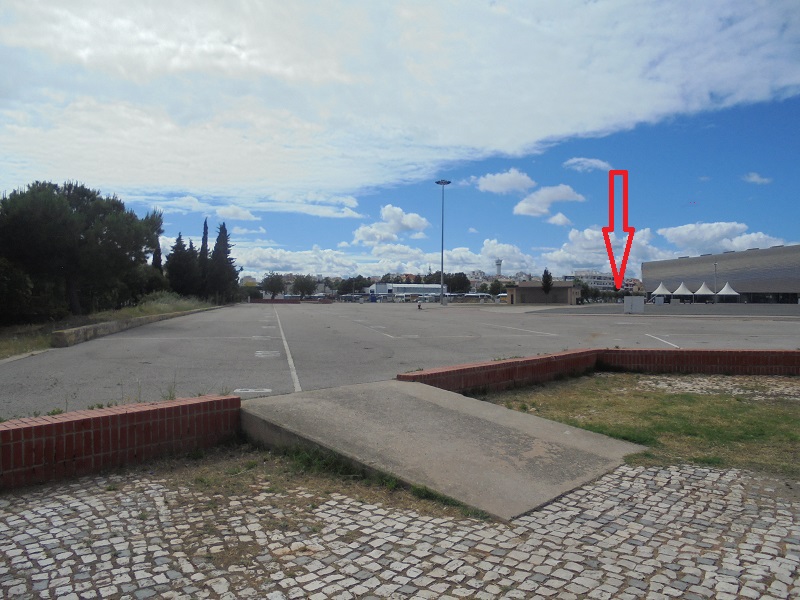 You will see buses in front of you, but that is not it. That's the bus maintenance depôt.
Follow the red brick road and you will see a gate. It is open! Go through the gate and the bus station entrance is directly in front of you.
Inside is a ticket office and small waiting area, toilets and 18 bus stops with a roof.
NB the ticket office opens at 0610 weekdays, 0700 weekends and holidays closing at 2030hrs daily.
If you are travelling outside those hours, you must obtain a ticket in advance or from the
website
.






If you get off at Portimão, here's how to find the way to the centre once you have finished wondering 'where on earth am I'? There is no dedicated bus connection to the city centre. Some city buses stop outside. Timetables here - routes 31 and 32 weekdays, 37 at weekends and holidays. The times as for the stop called Mercado Venda por Grosso. Route 31 will take you into the city centre, 32 from the city centre. The 37 is only good for a journey from the city centre. [I will be checking this information week commencing 19 October).

Or you take a taxi, there is a taxi stand outside the gate. Or walk - read on!

Come out of the bus station, look to your left across the road and spot the green gate.

Go through the gate and follow the red brick road towards the trees. - picture bottom right - and head towards the river when you get there.

Once at the other end you will see the way of the path around by the river and under the bridges. Follow that down by the river and you will come out at the Largo Do Dique for the city centre and a short distance beyond In Rua Guanaré (past the petrol / gas station) the stops buses for places like Monchique, Lagos, Ferragudo etc


RAILWAY STATION - if for any reason you need to go to or from the railway station, this is a pain. It is quite a walk because of the railway line and industrial area in between. Come out of the bus station, turn right towards the industrial area and follow the road to the end, turn left and go over the railway level (grade) crossing, then turn left again and keep going. It's about a 10 minute walk.

Coming from the railway station, turn right and follow the road to the end, turn right again, go over the crossing and turn right again. Walk past the industrial units and the bus company maintenance depôt. The bus station facility is ahead as you reach the end of the road.

There is a signpost just past the railway line to 'Terminal Rodoviário'.

Bus 31 runs to the railway station, buses 32 and 37 from the railway station taking about 3 minutes but check times carefully. On the timetables the railway station is shown as Estação de Comboios,

www.algarvebus.info