The information has been obtained from printed timetables and other local sources (like taking the bus) and is given in good faith.
The GIRO bus service around Albufeira is operating to the usual timetable. Winter service ends at 2000hrs / 8pm every day.
From 1st June to 30th September, GIRO buses run until 10pm / 2200hrs.

BUS TIMES BELOW APPLY UNTIL FURTHER NOTICE. WEEKEND SERVICE IS VERY LIMITED
WEEKDAY SERVICE IS MINIMUM BUT SLOWLY IMPROVING


Local buses between Albufeira and nearby places - summary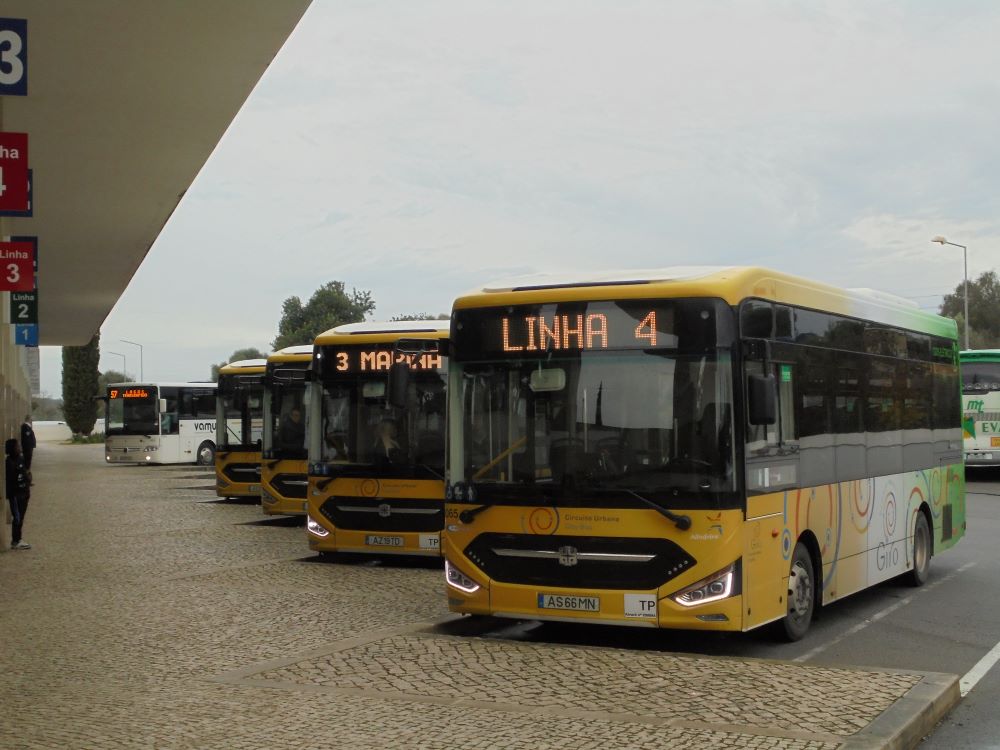 Albufeira Bus Terminal is on the outskirts of town about 1.6km / 1 mile from the old town.
Most of these buses DO NOT pass through the town centre or the main hotel areas.

Allow yourself enough time to get to there! There is more information here.
Maps for Albufeira including location of the bus station / terminal, are here.
Large map of old town showing different bus stops and other transport information here.

When boarding at the Bus Terminal, you must buy your ticket from the ticket office, except when boarding the Frota Azul bus to Messines or the local GIRO buses. Allow a few minutes for this. If boarding elsewhere, pay the driver as usual. Change is given, but try to have small change or at most a €10 note!

All buses towards Ferreiras and beyond also stop at Camping Albufeira (the stop on the main road, not the grey one just outside) about 5 minutes after leaving the bus station. Camping Albufeira is also served by the GIRO Red Route (Linha Vermelha) number 1 - click here for timetable and the Linha Laranja which runs between the main bus station, Ferreiras and the railway station - timetable. The entrance to the Clube Albufeira resort complex is opposite Camping Albufeira.

+++++++++++++++++++++++++++++++++++++++++++++++++++++
Albufeira Local Bus service – GIRO - serving Bus Station, Albufeira Camping, Ferreiras, Albufeira Railway Station, Old Town centre, Montechoro, Oura, Santa Eulália, Páteo, Marina, 'The Strip'.
Infos en français, auf Deutsch, em Portugues içi, hier, aqui
For full detail including links to maps and timetables, please click here. Official GIRO route map here.

Maps are available locally. They are not on display at many bus stops. Timetables are NOT published, even though the buses run only every half hour at best. Buses normally used have low steps also a wheelchair ramp and are accessible to disabled persons. Fifteen seat minibuses are now being used on some journeys on weekdays and most journeys at weekends. These have a wheelchair and buggy space at the back with a ramp.
Picture to right >>>>>

Cash Fare is €1.40**, a one day ticket is €4.00. If you intend to use the service a lot, you can buy a re-chargeable pre-pay pass at the Bus Station. You can buy ten rides for €8 (ie 80 cents instead of €1,40) or 20 rides for €16, but you do have to pay a fee of €3 for the card itself. A monthly pass with unlimited journeys is €18, photo required. A Seniors monthly pass (you must be over 65) is €11 per month, photo and proof of age required. At the time of writing, card re-charges are only available at the Bus Station. You can also pick up the route map there. There is currently no where else to obtain and recharge passes. How customer unfriendly is that! Pre-pay passes will deactivate if not used for 3 months. Adding credit will reactivate them. Pre-paid cards are refunded if you return them, but unused fares are not refunded.

** single tickets are valid for one hour after first issue. You can use the same ticket to change to another GIRO bus to complete your trip. If you are asked to change buses at the bus station, show your ticket to the second driver. You do not pay again.

GIRO TICKETS AND PASSES CANNOT BE USED ON OTHER BUSES, nor can tickets from EVA or Frota Azul be used on GIRO.
GIRO hours of service - summer times apply from 1st June to 30th September

Weekday departures from the bus terminal on all routes (except Laranja) are at 0700, 0730 then allegedly every half hour until 1900 in winter and 2100 in summer. In practice the departures wait while the drivers finish chatting. On Saturdays buses leave every half hour from 0700 until 1400, then every hour until 1900 in winter, 2100 in summer. On Sundays and Holidays buses leave once an hour from 0700 to 1900 in winter, 2100 in summer.
Last buses are therefore passing through the main part of town, depending on where you are, in winter between 1915 and 1945, in summer between 2115 and 2145.

For a summary of bus times in the old town area, click here. Will open in a new window.

The Linha Laranja to Ferreiras and the railway station leaves at 0640 then every half hour until 2040 in winter, 2240 in summer.

+++++++++++++++++++++++++++++++++++++++++++++++++++++++++
Albufeira Bus Station – Camping Albufeira - Ferreiras (12 minutes journey) – Albufeira Estação (Railway Station) (17 minutes journey)

GIRO Linha Laranja (Orange) route. Buses every 30 minutes, seven days a week.Timetable here These buses stop on the main road at Camping Albufeira and not at the bus stop immediately outside the entrance. They do NOT go to the old town nor is there a decent connection in either direction. Nearest stop to the old town is outside the Health Centre (Centro de Saúde) about 6 or 7 minutes walk.

Flat fare €1,40 cash, 80 cents with pre-pay GIRO pass card. The pass card costs €3 and can be purchased at the Bus Station. You can load it with either 10 or 20 journeys. The pass is valid on all

GIRO

routes but no others.


+++++++++++++++++++++++++++++++++++++++++++++++++++++++++


FOR A SUMMARY OF THE LAST BUSES BACK TO ALBUFEIRA FROM THE PLACES BELOW, PLEASE CLICK HERE

FOR A SUMMARY OF THE LAST BUSES FROM ALBUFEIRA TO THE PLACES BELOW, PLEASE CLICK HERE
+++++++++++++++++++++++++++++++++++++++++++++++++++++++++

Albufeira Bus Station – Ferreiras – Algoz – Silves
Until further notice there are six buses each way on weekdays, just three at weekends and holidays.

Journey times Ferreiras 8 minutes, Algoz 20 – 24, Silves 40 – 45.

One way fare Albufeira to Silves €4.55, to Algoz €3.40.

For a weekday visit to Silves you can now leave Albufeira at 1230 with buses back at 1715 and 1830. A weekend trip is not yet practicable unless you start very early. Buses to Silves are only at 0805 and 1430hrs, with the only buses back at 1345 and 1715. PLEASE CHECK TIMES just before you travel.

FULL TIMETABLE CLICK here

+++++++++++++++++++++++++++++++++++++++++++++++++++
Albufeira Bus Station – Ferreiras – Paderne – São Bartolomeu Messines
Most buses on this route no longer operate. A trip to Paderne and back on Saturdays or Sundays is no longer possible.


Journey time Ferreiras 8 minutes, Paderne 21 minutes, Messines 37 to 45 minutes.

One-way fare Albufeira to Messines €4.30, Albufeira to Paderne €3.40


On weekday mornings there is a bus to Paderne and Messines at 0735 then nothing until 1235. On Saturdays and Sundays the only buses are at 1235 and 1835. To get back to Albufeira it is a similar pattern but with the last bus at weekends before 1400hrs!


The official timetable is here

There are other three other daily buses between Albufeira and Messines via Guia and Algoz, click here These buses also stop along the 'main road' across Albufeira at Areais São João (the strip end) and at the 'Watches' roundabout by the supermarkets.


+++++++++++++++++++++++++++++++++++++++++++++++++++++++++
Albufeira Bus Station – Loulé via Fontainhas and Boliqueime, also to Mar Shopping and IKEA

Times at Mar Shopping / IKEA are about 15 minutes after Loulé. Check return times carefully as they vary, but will be 15 - 20 minutes before the time at Loulé.

Journey to Loulé is 40 minutes one way fare €4.55. Inbound buses stop a few minutes walk from the Saturday morning outdoor tourist market. For the indoor market go to the bus station and walk about 5 minutes. These buses run via the stop outside the Continente supermarket on the main road in Albufeira and also stop in the Montechoro area - see map.

Buses from Albufeira to Loulé for a day trip on weekdays at 0800, 1155 and 1430. At weekends 0835 and 1430.
Buses back from Loulé on weekdays at 1515 and 1825, at weekends 1515 and 1810.

Mar Shopping and IKEA, near Loulé SUMMARY OF BUSES BETWEEN ALBUFEIRA AND MAR SHOPPING HERE
FULL TIMETABLE ALBUFEIRA AND LOULÉ CLICK here
+++++++++++++++++++++++++++++++++++++++++++++++++++++++++
Albufeira Bus Station - (near) Old Town – Sesmarias - (Praia de) Galé - Salgados (- Vale De Parra - Guia)

Service along this route has been drastically reduced. There are now only four buses each way on weekdays plus two extra buses on schooldays. There is currently no Saturday, Sunday or Holiday service.

Runs via Old Town (Avenida do Ténis) and São Rafael / Sesmarias. Most buses continue beyond Galé to Salgados, some further onwards to Vale de Parra and Guia.

Diagram of the route here. Fare Albufeira - Galé is €2.35 - these buses do NOT go to Algarve Shopping. The village of Guia where they stop is about 1.3km away, walking along a busy and dangerous road with no footpath.
FULL TIMETABLE CLICK here

+++++++++++++++++++++++++++++++++++++++++++++++++++++++++
Albufeira Bus Station - Guia (Algarve Shopping and the village)

Guia Village - 1.3km or 3/4 of a mile from Algarve Shopping, along a very busy road with no footpath!

Map of Guia area and Algarve Shopping here.

Guia is served by various buses operated by EVA bus company that run between Albufeira, Lagoa and Portimão – click here for times - these stop outside the Algarve Shopping Mall (but 300 yards from Albufeira Retail Park) which is about ¾ mile / 1.3km outside Guia village.
Journey about 10 minutes by EVA bus - fare is €3.40. Buses are irregular and at weekends quite infrequent. Last bus to Guia on weekdays is at 1910, at weekends and holidays at 1800. Last bus from Guia to Albufeira is at 1915hrs on weekdays, 1730 at weekends.

Guia village is also served by the Frota Azul bus towards Messines - see below - journey about 15 minutes from the bus terminal, 20 minutes from Areais São João. This does not go via Algarve Shopping, which is ¾ mile / 1.3km and a dangerous walk along a very busy road with no footpath from Guia itself. Fare on that bus is €2.35.

Algarve Shopping Mall (4miles or 6km from Albufeira)

For Algarve Shopping, there are currently twelve buses from and to Albufeira on weekdays. On Saturdays, Sundays and Holidays there are at present only four buses each way. A taxi from Albufeira will cost €8 - €10. Uber or Bolt may be cheaper. A standard vehicle is permitted to carry only two passengers. If there are more of you, order a large vehicle or be prepared to take two or more small ones. There is a taxi rank at the mall.

All EVA buses to Guia (above) stop on request at Algarve Shopping 1 minute before Guia. Although the timetable calls the stop 'Vale Verde' it is always called Algarve Shopping by everyone. Beware that coming from Albufeira the stop is the 'wrong' side of a very busy road. Use the bridge, even though it means an extra 200 metres to walk.

FREE BUS FROM TOURIST AREAS TO ALGARVE SHOPPING MALL

There is a free bus between certain hotels in Olhos D'Agua and Albufeira to and from Algarve Shopping from mid March until mid - October.

THIS FREE BUS IS RUNNING. I SAW IT EN ROUTE TO ALGARVE SHOPPING. I CANNOT HOWEVER FIND ANY INFORMATION ABOUT THE CURRENT TIMETABLE. BELOW IS THE 2020 TIMETABLE AS A GUIDE.

The early bus goes around the stops in the 'opposite' direction and therefore may stop across the road where it's the EVA (local bus company) stop they use. Best check at the hotel.


++++++++++++++++++++++++++++++++++++++++++++++++++++++++++
Albufeira Bus Station – Açoteias- Praia de Falésia (Alfamar resort) – Rocha Baixinha (Aquamarina and Adriana Beach Club resorts)

Daily service but at very irregular times. Last bus from Albufeira is currently at 1735, returning at 1800 except on schooldays when there is another bus at 1845 as far as Falésia. That returns to Albufeira at 1905 and is the last bus in that direction.

Journey 20 minutes to Falésia, 25 to Rocha Baixinha. runs via Continente / Modelo shopping, Areais São João (the strip), Santa Eulália, Balaia, Olhos D'Agua, Açoteias and Falésia at the Alfamar Hotel. The stop for Rocha Baixinha is outside the Adriana Beach Club and Aquamarina resort complexes.

One way fare Albufeira to Falésia €2.35, Rocha Baixinha €3.40.

FULL TIMETABLE CLICK here
++++++++++++++++++++++++++++++++++++++++++++++++++++++++++

Albufeira Bus Station - Balaia - Olhos D'Água
Buses run on weekdays at very irregular intervals on two different routes. Weekend service is reduced to eight buses each way with gaps of up to three hours between buses. Please check the timetable.

Journey 12 minutes to Balaia, 15 minutes to Olhos D'Agua. Runs via Continente / Modelo shopping, Areais São João, Santa Eulália

One way fare €2,35. Frequent but irregular service on weekdays, infrequent at weekends especially in the mornings towards Albufeira, in the afternoons going back. As of 1st June the last bus from Albufeira on weekdays is at 1900 every day. Times of all the buses between Albufeira and Olhos D'Agua in both directions HERE

+++++++++++++++++++++++++++++++++++++++++++++++++++++++++
Albufeira Old Town - Bus Station- 'strip'- Quinta da Balaia - Branqueira - Vale Navio (north end)

Served regularly by Albufeira GIRO Bus
Vermelha 2
. Every 30 minutes weekdays and also Saturdays until 1430hrs, every hour otherwise. Cash fare €1,40
+++++++++++++++++++++++++++++++++++++++++++++++++++++++++
Albufeira (Areais São João) – Albufeira Bus Station – Páteo – Guia – Algoz – S.B Messines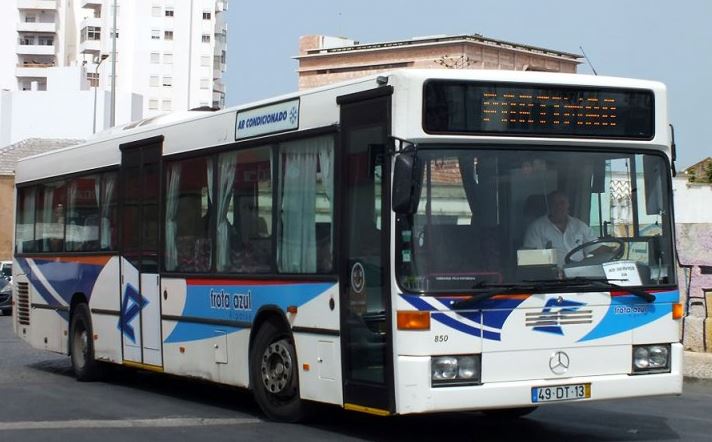 (operated by Frota Azul – pay the driver wherever you board!)
Service reduced to three buses each way every day. Starts from Areais São João (the strip) and stops at the Continente Modelo shopping centre near McDonald's then via Albufeira Bus Station. The nearest stop to the old town is near the 'Dolphins' roundabout at the Avenida do Ténis traffic lights.

FULL TIMETABLE click here. These buses do NOT go to Algarve Shopping, which is 1.5km from Guia village centre walking long a busy and dangerous road with no footpath.

Guia is also served by the various buses towards Lagoa and Portimão – click here for times
Páteo is also served twice every hour (hourly on Saturday afternoons, all day Sunday and Holidays) by the GIRO Linha Vermelha 1 bus - see below

+++++++++++++++++++++++++++++++++++++++++++++++++++++++++
TRANSRÁPIDO FAST BUS FARO <> ALBUFEIRA BUS STATION
SERVICE IS REDUCED TO FOUR BUSES EACH WAY ON WEEKDAYS, ONE EACH WAY AT WEEKENDS AND ON PUBLIC HOLIDAYS

Albufeira to Faro takes 55 minutes. In Albufeira this bus stops only in the bus station. It also stops at Guia and at Algarve Shopping.

For a printable copy of the official timetable leaflet (external link in a new window) click here. Fare is €4,95 on any bus.

Buses from Albufeira to Faro on weekdays at 0705, 0805, 0945,and 1350. The 0945 also runs at weekends

Coming back from Faro they leave on weekdays at 0905, 1230, 1430, 1605, and 1725. The 1230 also runs at weekends

There are other, much slower, buses between Albufeira and Faro via Vilamoura and Quarteira - see below.

++++++++++++++++++++++++++++++++++++++++++++++++++++++++++

ALBUFEIRA - LAGOS FAST BUSES VIA PORTIMÃO, PRAIA DA ROCHA AND ALVOR (LINHA LITTORAL)

SERVICE IS CURRENTLY REDUCED TO FIVE BUSES EACH WAY ON WEEKDAYS, TWO BUSES EACH WAY AT WEEKENDS

In Albufeira these buses stop only in the bus station. They also stop at Guia and Algarve Shopping. Current official timetable here.

Journey from Albufeira to Praia da Rocha is about an hour, Alvor 1 hour 10 minutes, Lagos 1hr 30 minutes. Weekdays - direct buses from Albufeira suitable for a day out leave at 0800, 0910 and 1200. Buses back from Alvor at 1635 and 1820 daily, these stop in Praia da Rocha at 1650 and 1835 respectively. At weekends there is only the 0910 from Albufeira with the return journey from Lagos at 1615, Alvor at 1635, Praia da Rocha at 1650.

There are other buses between Albufeira and Portimão. The last buses back from Portimão to Albufeira are at 1655, every day, with a later bus at 1840 on weekdays.

Fares : Albufeira - Portimão €4,85, Albufeira - Alvor €4,95 and Albufeira - Lagos €5,80

ALBUFEIRA - PORTIMÃO - LAGOS TRANSRÁPIDO BUS

These buses stop in Guia, Armação de Pêra, Lagoa, Portimão and Lagos. They do NOT go to Praia da Rocha and Alvor.

Buses from Albufeira on weekdays at 0955 (ends at Portimão), 1325, 1700 and 1820. Official timetable here. From Lagos to Albufeira at 0650, 0830 and 1235. There is a very early journey from Portimão to Albufeira at 0615. At weekends the only bus leaves Albufeira at 1325.

++++++++++++++++++++++++++++++++++++++++++++++++++++++++++

ALBUFEIRA TO VILAMOURA AND BACK
The current official timetable is here. MUCH OF THE WEEKEND SERVICE IS STILL SUSPENDED

Journey about 40 minutes, one way fare €4,30. Buses run about once an hour on weekdays, less often at weekends. In Vilamoura all buses in BOTH DIRECTIONS use the exact same stops because of the one-way traffic system. The main bus stop in Vilamoura (Praia da Marina) is near the Casino and the Dom Pedro hotels - Vilamoura map here.

Buses leave from the bus station in Albufeira, then run via Albufeira Shopping (stop is outside the Pingo Doce and Continente supermarkets) along the main road, then stop at the 'strip', Santa Eulalia, Balaia etc. Click the map to see it larger size. Buses leave from Albufeira bus station then run along the main roads across town. They do NOT stop in the old town. The nearest stop is about 10 minutes uphill walk.


Buses from Albufeira to Vilamoura suitable for a day out (discounting those before 0800hrs!) leave on weekdays at : 0845, 1000, 1130 and 1335. At weekends and on holidays they leave only at 1000 and 1335. Coming back on weekday afternoons they leave at 1422, 1632, 1747 and 1947. At weekends and on holidays the afternoon buses to Albufeira leave at 1517, 1747 and 1947 only.

Times in detail towards Vilamoura here and coming back here including times at the other places in Albufeira where these buses stop.

The buses to and from Faro also stop at the Quarteira Wednesday outdoor market at Fonte Santa, about 10 minutes after Vilamoura. Check the timetables etc here.

++++++++++++++++++++++++++++++++++++++++++++++++++++++++++

ALBUFEIRA AND CARVOEIRO

There are no direct buses. You must always change bus In LAGOA. The journey can currently only be reasonably done on weekdays but often with long waits. There currently no practicable journeys at weekends, except for one early morning journey between Albufeira and Carvoeiro. Fares : Albufeira - Lagoa €4,55 and Lagoa - Carvoeiro €2,35. Separate tickets needed for each bus. Details here.

++++++++++++++++++++++++++++++++++++++++++++++++++++++++++
ALBUFEIRA TOURIST TRAIN
SERVICE SUSPENDED 'UNTIL FURTHER NOTICE'
This links 'The Strip', Forte do Vale area, old town and Brisa Sol. This runs every 20 minutes every day from about 0900 until about 1800 in winter then every 40 minutes until about 2200, every 20 minutes from 0900 until midnight in summer. An all night service runs on New Year's Eve. Details on their website here.
++++++++++++++++++++++++++++++++++++++++++++++++++++++++++
How to get to Albufeira Outdoor Market, The Marina, Algarve Shopping Mall and Albufeira Retail Park
www.algarvebus.info