This page is unofficial. The information has been obtained from printed timetables and other local sources and is given in good faith.
The planes, trains and buses on this page are operated by numerous different companies, so some sections will be more up to date than others.

Travel by plane, bus or train between the Algarve and Spain
IT CAN BE A BIT DIFFICULT!!

The main focus of this page is travel between the Algarve and Seville.
I have added some information on travel between the Algarve, Portugal and certain other parts of Spain, either gained through personal experience or contributed by others.
I accept no responsibility for any problems caused by errors or changes made by the operators that I can't find out about.
I will of course update when new information becomes available. If you have any contributions to this information, please email me!
Thanks again to Barlavento Expert for the information on buses between various parts of Spain and Portugal - summarised here.

PLANE

Air Berlin operates between Faro and Palma de Mallorca four times a week.
Flying to Palma de Mallorca might sound a bit odd, but there are connections there for Barcelona, Bilbao and many other places

There are currently no direct flights between Faro and anywhere in mainland Spain.
Vueling Air (www.vueling.com) is operating two flights a week between Faro and Barcelona from June 20th until September 12th 2015.
Air Nostrum will be operating two or three flights a week from Faro to Madrid I think on Mondays, Fridays and Sundays but until when I do not know.

TRAINS
See below. There are no trains between the Algarve and Spain. The lines do not cross or even meet up at the border.
The nearest station in Spain is in Huelva, some 60km /36 miles from the border. Huelva has only four trains a day, three to Seville and one direct to Cordoba and Madrid.
In fact there are now only THREE trains a day between anywhere in Portugal and anywhere in Spain. And none of them go anywhere near the Algarve.

COACHES/BUSES LAGOS - ALBUFEIRA - FARO - HUELVA - SEVILLE
Information checked and updated 12th May 2015 - times for summer 2015 will be added as soon as confirmed.
The two trips below marked DOES NOT RUN have been added for the summer for the past few years but no guarantees for this year!
The 1345 from Lagos runs one hour later in summer and 0730 from Seville runs 30 minutes later - perhaps.

This bus (coach) service between Lagos and Seville is operated jointly by Eva Bus (Portugal) and DAMAS (Spain)
Connections are available at Faro to and from Lisbon
There are also direct buses (coaches) between Lisbon and Seville via the Algarve, operated by the Spanish company ALSA see below
One way fare Lagos to Seville is €21; return/round trip €35. To print the timetable below click here. Does not include connections.
THESE TIMETABLES MAY BE CHANGED WITHOUT WARNING SO PLEASE CHECK ON THE WEBSITES!

Spanish time is 1 hour AHEAD of Portuguese time

ONE HOUR

LATER

in summer

30 minutes

LATER

in summer


Does not run = não circular, ne marche pas, kein Betrieb
operates only between 28.06.15 - 06.09.15


Winter - until 27 June 2015




Does




Not




Run



Daily

Does




Not




Run

Daily



Winter - until

27 June 2015

Does




Not




Run

Daily

Does




Not




Run

Daily
Lagos Bus Station

0615


0630



1230


1345





Seville Plaza de Armas#

0730


0730



1330


1615



Portimão Avenida Guanaré

X


0700



no stop
(d)

1415





Huelva Estacion de Autobuses

0845


0845



1445


1730



Lagoa Bus Station

X


0715



no stop
(d)


no stop




(a)





Ayamonte Bus Terminal

|


0930



|


no stop



Albufeira Bus Station (1.6km from old town centre!)

0700


0735



1315


1450





CROSS INTO PORTUGAL and change to Portuguese time - 1 hour)
Faro Bus Station (150m. to railway station)

0740


0820



1355


1535





Vila Real de Santo António Bus Station
|


0855



|


1740



Olhão Bus Station

X


0840

no stop
(c)


1555





Tavira Bus Station
0850


0925



1450


1810



Tavira Bus Station

0810


0905



1425


1620





Olhão Bus Station
no stop
(e)


0950



no stop
(f)


1835



Vila Real de Santo António Bus Station

|


0935



|


1650





Faro Bus Station (150m. to railway station)
0920


1010

1520


1855



CROSS INTO SPAIN and change to Spanish time + 1 hour



Albufeira Bus Station (1.6km from old town centre!)
1000


1055



1600


1940



Ayamonte Bus Terminal

|


no stop

|


1815





Lagoa Bus Station
no stop
(g)

no stop
(b)

no stop
(h)


2000



Huelva Estacion de Autobuses

1015


1145



1630


1905





Portimão Avenida Guanaré

no stop
(g)

1130



no stop
(h)

2015



Seville Plaza de Armas#

1130


1300



1745


2015





Lagos Bus Station
1045


1200



1645


2045
X - bus does not stop and there are no usable connections from these places

Connections - separate tickets needed in all cases

(a) - bus from Lagoa to
Portimão
at 13.20 on weekdays / 13.30 Saturdays that would connect with this bus.
No connection on Sundays and Holidays.
(b) - bus from
Portimão
to Lagoa at 12.00 daily to connect with this bus.
(c)
- bus from Olhão to Tavira WEEKDAYS ONLY at 1235. Train daily, leaves 1224.
(d)
- bus from Portimão to Albufeira daily at 1100, from Lagoa at 1120. Arrival in Albufeira 1205.
(e)
- bus from Tavira to Olhão at 0855 daily or train at 0934. Railway station is 10min walk from bus station.
(f)
- bus from Tavira at 1510 daily, train on weekdays only at 1525.
(g)
- bus from Albufeira to Lagoa and Portimão at 1030 daily.
(h)
- bus from Albufeira to Lagoa and Portimão at1615 and 1720 WEEKDAYS ONLY. Weekends and Holidays not until 1800.
For other connections please refer to the timetables elsewhere on the site.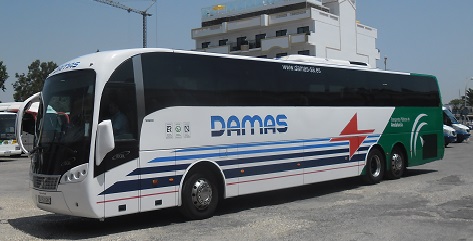 Ticket Purchase
These are the only stops. Tickets are not sold on board. This is an 'all-reserved' service. Tickets can be bought on line for all journeys.
Go to www.eva-bus.com for journeys starting in Portugal, www.movelia.es for journeys starting in Spain.
A correspondent noted that when you book ON LINE your ticket may show the departure in SPANISH TIME even if you are leaving from Portugal.
Spanish websites definitely do show the times in Portugal in Spanish time! Do double check.

Otherwise, you must buy your ticket at the ticket office before the bus arrives, so allow sufficient time or go there a day or two earlier. The ticket offices in LAGOS and LAGOA are NOT OPEN for the early morning buses. You MUST buy your ticket at least the day before. At weekends the ticket office at Portimão will likewise not be open.

Warning - a correspondent travelled on the 1330 Seville - Lagos bus. There were tickets available at the DAMAS ticket office but by the time the bus arrived it was obvious that some 15 - 20 more tickets had been sold than there were seats on the bus. Those who had bought tickets on line were not given priority. Late arrivals had to wait for the next journey. This has, they said, happened before. Advice - arrive early even if you have booked on line!
These buses usually have on-board toilets you will be pleased to know!
# for information about onward connections at Seville please click here. Plaza das Armas is 2km from the main Santa Justa Railway Station and the other main bus station at Prado San Sebastian.

SEVILLE <> ALGARVE <> LISBON


Service operated by ALSA - www.alsa.es - the website is in English. Section checked 25th April 2015



FOR INTERNATIONAL JOURNEYS ONLY



To UK readers these are COACHES, like National Express. Tickets MUST be bought in advance.

If you used this route before, note that the ALBUFEIRA stop is now the main bus station at Caliços.
WARNING - I have noticed on recent occasions the afternoon ALSA buses leaving Albufeira before the scheduled departure time.
This I can only assume is because all ticketed passengers are on board. You CANNOT buy tickets at the last minute!!
Connections are available at Seville for Algeciras, Malaga, Torremolinos etc. Check the ALSA or MOVELIA website.



PLEASE CHECK AT WWW.ALSA.ES OR WWW.MOVELIA.ES FOR TIMES FOR THE EXACT DATE YOU PLAN TO TRAVEL



Stops at Ayamonte and Loulé have been discontinued, as have most at Tavira and Vila Real de Santo António.

In summary, an overnight journey runs every night between Lisbon and Seville, passing through Albufeira, Faro,Tavira and Vila Real de Santo António in the early morning.
These overnight journeys pass through the Algarve during the early morning hours. The night-time buses stop OUTSIDE the bus station in Faro.
There will be no local bus transport from or to the stops, possibly not even taxis.
In addition, in winter, a daytime journey runs Thursdays to Sundays in both directions. In summer this journey runs daily.

There is also at least one daytime journey each way between Seville and Lagos, calling at Faro, Albufeira and Portimão.

Towards Spain this leaves Lagos at 1400hrs, towards Portugal it leaves Seville at 0900hrs. The complete trip takes 4 hours. These trips are normally by 27 seat midi sized vehicles. Early booking is advised in summer.

I have been informed that tickets may be purchased at a main bus station but are only available during 'office hours' on weekdays! Tickets are not sold on board. It has been reported several times that ALSA may not accept other than Spanish credit cards on line. There is now an option to pay using Paypal.

SEVILLE - CONNECTIONS - checked and updated 25th April 2015

Connections within the city of Seville

The Plaza de Armas bus terminal in Seville is about 2km across the city from the Santa Justa railway station. It is also about 2km from the Prado San Sebastian Bus Station. It is very busy, even on a Sunday morning, so allow ample time to buy your ticket. Perhaps go there a day or two earlier as I did, or book on-line if you can.

There is no direct bus between the Plaza de Armas and the Santa Justa railway station. You need to take bus C4 to Prado San Sebastian then change to the C2 for Santa Justa. The official website of the Seville city bus service is at www.tussam.es including a downloadable map. There is a lot more information about Seville generally, including maps, here.
The first line of Seville's metro (underground) rail network is in service. It does not serve either the Plaza de Armas bus station or the Santa Justa rail station. It does have a stop at the Prado San Sebastian, the other major bus station. The metro website is http://www.metro-sevilla.es/en/ - only in Spanish.

Most parts of Seville can also reached by city buses from outside the Plaza de Armas.

Buses to suburban and regional destinations

There is comprehensive information on buses in the Seville region (in Spanish only) at the 'Consorcio Transportes' website.
Buses to many suburban destinations leave from the Plaza de Armas, but some leave from the Prado San Sebastian. The C3 and C4 circular routes link the two bus stations. The bus station at Prado San Sebastian is the yellow painted building with the arches, just around the corner from the tram/light rail stop**. The entrance is actually in the Plaza San Sebastian. The bus companies Casal, Los Amarillos, Grupo Valenzuela and Alsina Graells (ALSA) use this terminal. They each have their own ticket/enquiry offices inside. Timetables were displayed when I last visited.

** The short tram line runs between San Bernado metro station via Prado San Sebastian (close to a lot of bus stops) to the old city centre at the Plaza Nueva, a distance of about 1km. Ticketing is integrated with the city buses operated under the Tussam banner.
Buses from Seville to many regional destinations (eg Cadiz, Jerez, Tarifa, La Linea and Algeciras) are operated by DAMAS and Transportes Generales Comes. TG Comes buses use the Prado San Sebastian bus station.

Long distance buses (coaches)

Long distance buses to many other parts of Spain leave from Plaza de Armas. These companies use Plaza de Armas - ALSA, DAMAS, SOCIBUS, GRUPO VALENZUELA, LEDA SA and EUROLINES

You can check times of buses from the Plaza de Armas bus station on this website http://www.autobusesplazadearmas.es/ note that the site is in Spanish only

The ALSA and Eurolines sites are available in English, the TG Comes site has quite of a lot of its information in English (but isn't very easy to navigate!) but the other sites are only in Spanish.

Seville Airport bus - checked 25th April 2015

The airport bus (EA, Especial Aeroporto) runs to and from the bus station at Plaza de Armas in the city centre, calling at the Prado San Sebastian bus station and the Santa Justa railway station on the way.

At Plaza de Armas the airport bus stops in front of the bus station on Calle Torneo (not evident from the Tussam website). There are two city bus stops in front of the station, on the same side of Calle Torneo as the bus station itself. The airport bus stops at the one furthest away to the left from the bus station exit.

First bus from the city to the airport is at 0430am daily, last bus is at midnight. From the airport the first bus is at 0520, last bus at 0045. Buses run three times each hour between about 0730 and 2300hrs, earlier and later twice an hour, mostly at slightly irregular intervals. One way fare is 4 Euros, return fare 6 Euros. Journey is between 20 and 30 minutes, depending on traffic.

Check the times and route maps on the TUSSAM website. Or there is this PDF file here in Spanish and English.

Gibraltar

TG Comes runs four buses each day from Seville (Prado San Sebastian) to La Linea, for Gibraltar. Seville - La Linea timetable here. There is no public transport across the Spain/Gibraltar border. You have to walk across the border from La Linea and then take a local bus and taxis on the Gibraltar side into the main part of town. This takes only a few minutes. Alternatively you can go to Algeciras by GRUPO VALENZUELA coach (bus) from Seville, then by local bus to La Linea.

ALGARVE - SEVILLE USING THE FERRY?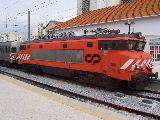 In the direction Algarve - Seville, you have to take the train or bus to Vila Real de Santo António (VRSA). This town is on the Portuguese side of the wide Guadiana river, which forms the border between Portugal and Spain.

The railway station at Vila Real de Santo António is at the end of the Algarve line from Lagos, which also serves Portimão, Faro and Tavira etc as do the buses above. Trains run about every two hours; train times are here.
The station in VRSA is about ten minutes walk (flat, no hills) from the ferry terminal. To get from the railway station to the ferry, walk out of the station, straight down the road, past the roundabout and on to the next junction. Turn left and pass through a rather dismal lot of mostly closed factories, until you get to a T-junction and can see the river. Turn right and you will see the bus station ahead of you. The ferry is just beyond. The Intermarché supermarket outside the VRSA train station is a good place to stock up. It's open daily including Sunday afternoons. There aren't any other supermarkets until you get to Spain. The town centre of VRSA is off to the right when you get to the bus station. There you will see bars, restaurants etc. Map here - opens in a new window.

The ferry runs every 30 minutes in summer, every 60 minutes in winter, between about 0830 and 1930 only. No service on winter Sundays. Details below.

If you are staying somewhere (eg Faro, Tavira, Monte Gordo) there is a bus to Vila Real de Santo António and bus might be best, as the bus station at VRSA is at the ferry terminal
Seville - Algarve - I have used the bus/ferry/bus option from Seville to Albufeira! It was fairly painless except for a half hour delay caused by traffic congestion on the outskirts of Seville. The bus (cost now €14.25) took me from Seville to Ayamonte, on the Spanish side of the river. The Spanish railway line runs only as far as Huelva and there are only three trains a day, so unless you are coming from elsewhere, the bus from Seville is best. Then it's about 15 minutes easy walk through the town to the ferry terminal. This isn't signposted very well, so keep the river to your left. Then there's the ten minute ferry ride (€1.70) across to Portugal.

Ferry to Ayamonte (Spain)

A little ferry crosses the river between VRSA and Ayamonte - details checked 7th May 2015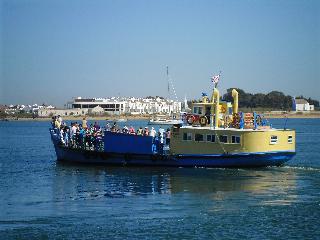 I have used the ferry a few times. That's a picture of it to the left. It can take two or three cars and maybe 50 passengers maximum. (Spanish time is one hour ahead of Portugal, so you gain or lose an hour in the 10 minute crossing of the river.)


THERE ARE NO FERRIES ON SUNDAYS AND HOLIDAYS EXCEPT IN SUMMER.





The timetables issued in Portugal show all departures (including those from the Spanish side) in PORTUGUESE TIME



Timetable from 1st April to 30th June. To see the actual timetable on display click here.

Departure from Vila Real to Ayamonte at 0845, 0930 then at 30 minutes past every hour until 1730, final trip at 1915.
Departure from Ayamonte to Vila Real

SPANISH TIME

at 0730, 0800 then every hour on the hour until 1600, final trip 1800



Summer service - every 30 minutes daily from 0830 to 1930. Summer service valid from 1st July 2015 to 13th September. Details to be confirmed


An English language website for Ayamonte has a timetable on line here. The information differs greatly from what is available in Portugal!


The crossing takes about 10 minutes. Fare for foot passengers is €1.70; children under 4 go free, ages 4 to 10yrs €0.85.The ticket office at Vila Real is within the restored former customs control building.


TAKE YOUR PASSPORT OR ID CARD! PORTUGUESE FRONTIER POLICE SOMETIMES CHECK THEM BOTH OUTBOUND AND INBOUND.
Ayamonte to/from Seville direct or via Huelva
PLEASE REFER TO THE TIMETABLE/TICKET WEBSITE FOR SPECIFIC BUS/COACH TIMES FOR THE DAY YOU WISH TO TRAVEL
For all BUS timetable enquiries around Ayamonte, Isla Cristina and Huelva go to the regional bus website here this site is only in Spanish. There are several different buses between Ayamonte and Huelva, so you will have to fish around a little.

For times, fares and tickets for longer journeys in Spain eg Ayamonte - Seville go to www.movelia.es - this site is available in English.

The DAMAS bus company runs between Seville (Plaza da Armas) and Ayamonte four times daily on weekdays, three times daily at weekends and on public holidays. Journey to Seville is about 2¾ hours. There are also buses between Ayamonte and Huelva about every two hours. You have more options Ayamonte - Seville with a change of bus in Huelva. These buses are also operated by DAMAS.
Socibus also operate three times a day between Ayamonte, Sevllle and Madrid - details below.

Trains - times checked and updated 23rd January 2015 valid until further notice.

There are a few trains (www.renfe.com) between Huelva and Seville (Santa Justa). The railway between Ayamonte and Huelva closed long ago and the railway station in Ayamonte was converted into the bus station. Train times Huelva to Seville daily at 0700, 1500 and 1900, with an extra train on Sundays at 1750 which goes to Madrid. Journey is about 90 minutes, one way 'Turista' fare is €12.25 but discounted fares are available for advance purchase. There is NO CONNECTION by bus Ayamonte to Huelva for the 0700 train or the 0800 to Madrid below. Trains leave Seville Santa Justa for Huelva at on weekdays at 1000, 1700 and 2050 with an extra train at 1902 on Fridays which comes from Madrid. On Saturdays and Sundays trains from Seville to Huelva leave at 0845, 1700 and 2050. Reservation is not needed between Huelva and Seville but is essential for journeys to Madrid.
Huelva <> Madrid direct by train
There is also a direct fast train between Huelva and Madrid Atocha NOT STOPPING in Seville. The Huelva - Madrid train leaves at 0800 arriving at 1140 Return train leaves Madrid at 1805 arriving in Huelva at 2145. These trains stop in Cordoba. Details and fares at www.renfe.es - normal tourist class fare one-way is €71,50. Reservation is compulsory.

There is an extra weekend trip between Huelva and Madrid at certain times. Train leaves Madrid Puerta de Atocha station on Fridays at 1620 arriving in Huelva at 2023, returning to Madrid on Sundays at 1750 arrival 2158. Subject to alteration around major public holidays eg Easter. Reservation compulsory.

VAN/TAXI/MINIBUS?
A number of companies and travel agents advertise that they will do airport transfers to Seville, so that could be an avenue worth exploring, especially if there is a group of you. For example, try www.yellowfishtransfers.com

OTHER BUSES BETWEEN PORTUGAL AND SPAIN

Thanks to Barlavento Expert for much of this information about various other bus services between Portugal and Spain. There are a lot of enquiries about these buses, as there are almost no trains between Portugal and Spain, as already stated. Don't forget that Spanish time is one hour ahead of Portugal. All times given below are local time to the country and city concerned.

I have checked as much of the information as I can through the company websites. Advance reservation is required on almost all the buses (coaches to UK readers) so you must check all times etc before committing yourself.

Many of the buses between Portugal and Spain are operated by the ALSA company. This company is owned by National Express, a UK train and bus operator. Most of their website and on-line booking system is in English. Also, the INTERNORTE consortium website offers domestic and international services. EUROLINES - see below.

The timetables do not state so specifically, but services on holidays are usually as for Sunday times. Service does not usually operate on New Year's Day (1st January) and may be reduced on December 24th, 25th, 31st and subject to change around major holidays eg Easter. Also, according to my leaflet, you are supposed to 'present yourself' 45 minutes prior to departure. Tickets should be bought in advance if at all possible, especially in summer. I do not claim that this information is comprehensive. There may well be other links, especially in the north of the country, but this site is really about the Algarve.

BARCELONA - LISBON (CHANGE OF BUS REQUIRED IN MADRID)
Operated by ALSA. - Please check details on their website
Leaving Barcelona North Bus Station at 1230 (a) and 2300 (b) arriving Lisbon Sete Rios at 0700 and 1700 respectively. The 1230 departure also stops at : Barcelona (Sants), Lerida and Zaragoza. Change buses in Madrid (Est. Sur de autobuses) then it calls at Elvas, Estremoz, Evora, Montemor, Setubal and Lisbon Gare Oriente. The 2300 departure stops at the same places as far as Madrid then Evora and Lisbon only.

(a) the 1230 from Barcelona operates Mondays, Thursdays and Sundays all year plus Saturdays in summer. (b) the 2300 from Barcelona operates Tuesdays and Fridays all year, also Wednesdays in summer.

From Lisbon towards Barcelona buses leave at 1130 and 2100. The 1130 runs on SUNDAYS only, all year round and is the fast service arriving in Madrid at 2130, change buses for Barcelona arrival at 0700. The 2100 stops in all the towns and arrival in Barcelona is 1645 the next day. The 2100 runs every day except Sundays in summer; in winter it runs on Mondays, Tuesdays, Thursdays and Fridays only.

BARCELONA - PORTO (CHANGE OF BUS REQUIRED IN MADRID)

Operated by ALSA - please check details on their website.
There are one or two buses each day taking about 18 hours for the trip. Times vary according to season, so please check details on the website above and note that their English language section refers to Porto as 'Oporto'. There is a two hour wait in Madrid. Some journeys operate via Madrid Airport.
The Internorte bus company also operates Porto - Madrid - Barcelona three times a week; times and reservations at http://www.internorte.pt/

MADRID AND LISBON/PORTO

Madrid <> Lisbon via Badajoz and Évora operated by ALSA. One-way fare €44,00, return (round-trip) €73.00 some small taxes and charges will be added to the total.

Two buses daily all year one daytime and one overnight bus, journey time is about 12 hours daytime, 10 hours overnight. Buses leave/arrive at Madrid's Est Sur de Autobuses and to/from Lisbon Sete Rios Bus Terminal but calling at Lisbon Gare Oriente 15 minutes later/earlier.

Madrid <> Lisbon via Badajoz, Elvas, Montemor and Setubal - Operated by Avanzabus

Three buses each way on weekdays, two each way at weekends and on holidays. One journey each day is overnight. Journey time about 8 hours. Full timetable on the Avanzabus website; in Spanish only. Downloadable timetables are available for all their routes across Spain under the 'horarios' tab. One-way adult fare Lisbon > Madrid is €42,10. Vehicles are configured with 33 seats only, including single seats. Some journeys now also call at Lisbon Airport.

Madrid <> Porto via Salamanca with connection to Coimbra etc Operated by ALSA.
One daytime journey each way every day, journey time 9hrs 30 minutes. Check the ALSA website for times. One way fare €50.00

There is a connection at Madrid from and to Valencia daily in summer, four days a week in winter.

Porto - Vigo via Porto airport checked and updated 5th January 2015

Five journeys each way on weekdays, two journeys each way Saturdays, Sundays and Holidays. Some journeys also run to and from Santiago de Compostela or you can go from Vigo to Santiago de Compostela by train or local bus. International service is perated by AUTNA www.autna.com website is in Spanish only. Tickets can be bought on line. Downloadable timetable can be seen here.

Socibus service Madrid - Seville - Ayamonte checked and updated 5th January 2015

Madrid Airport stop is at Terminal One
Please check all times when buying tickets as there are no longer any downloadable timetables on the website

Operated by Socibus

Daily

Daily

Daily



Daily


Daily



Daily

Madrid Barajas Airport T1

---

---

2115

Ayamonte Bus Station (*)

0800

1400

2100

Madrid Est. Sur de Autobuses
1100

1600

2200
Isla Cristina §

0810

1410

2110

Seville Plaza de Armas
D

D

0410
La Antilla

0820

1420

2120

Huelva Bus Station
1840

2340

0525
Lepe

0830

1430

2130

Cartaya
1900

0000

0545
Cartaya

0840

1440

2140

Lepe
1910

0010

0555
Huelva Bus Station

0915

1515

2215

La Antilla
1920

0020

0605
Seville Plaza de Armas

1030

C

C

Isla Cristina §
1930

0030

0615
Madrid Est. Sur de Autobuses

1640

2255

0555

Ayamonte Bus Station (*)
1955
0055
0640
Madrid Barajas Airport T1

1705

----

0625

Tickets for these buses can be bought on line at www.socibus.es
* 15 minutes walk to the ferry to/from Portugal which, at best, runs 0900 - 2000 only!
§ There is an infrequent local bus service betwen Ayamonte and Isla Cristina
C via Cordoba at 1800 or 0100 D via Cordoba at 1555 or 2055
One-way fare Madrid (City or Airport) <> Ayamonte €29,30
Socibus operate other buses between Madrid, Seville and Huelva.

Eurolines
The Eurolines company operates a number of routes connecting Portugal with the outside world. Their Portugal timetable can be found here - external link.
A number of these times are the same as routes operated by the ALSA bus company, they are a 'code share' type operation.
Several of the routes involve a change of bus but through tickets are available.

Routes: Madrid-Mérida-Badajoz>>>>Elvas-Estremoz-Évora-Montemor - Setubal - Lisbon
Madrid-Ávila-Salamanca-Ciudad Rodrigo>>>>Guarda-Viseu-Porto-Fatima-Lisbon - Vila Real St. António
Algeciras-Huelva-Jerez-MálagaSevilla-Granada>>>>Faro-Setubal-Lisbon-Fatima-Porto
Barcelona-Lleida-Zaragoza>>>>Vilar Formoso-Guarda-Celorico-Mangualde-Viseu-Albergaria-Porto
Valencia>>>>Elvas-Estremoz-Evora-Setubal-Lisbon - V. Formoso-Guarda-Viseu-Porto

Socintarbus - Northern Portugal to Andorra

Service ceased operation? Their website is gone and a Facebook page refers visitors to a phone number of another company who have no information I can find!

PUBLIC HOLIDAYS IN PORTUGAL AND
SPAIN

2015

Click here for a list of Portuguese public and religious holidays until end 2015.


All Spanish holidays are listed here - external link in a new window.


Note that, as in Portugal, Spanish holidays are not 'moved' and are held on the given date regardless of the day of the week. Also, there are many local holidays and festivals.