ALBUFEIRA WEATHER

INFORMATION ON THIS PAGE correct as of 8th September

The GIRO bus service around Albufeira is operating to the usual timetable. All other buses are running reduced timetables, especially at weekends.
Albufeira Bus Station is a mile/1.6km outside the centre of the town in the Caliços area. Please read on.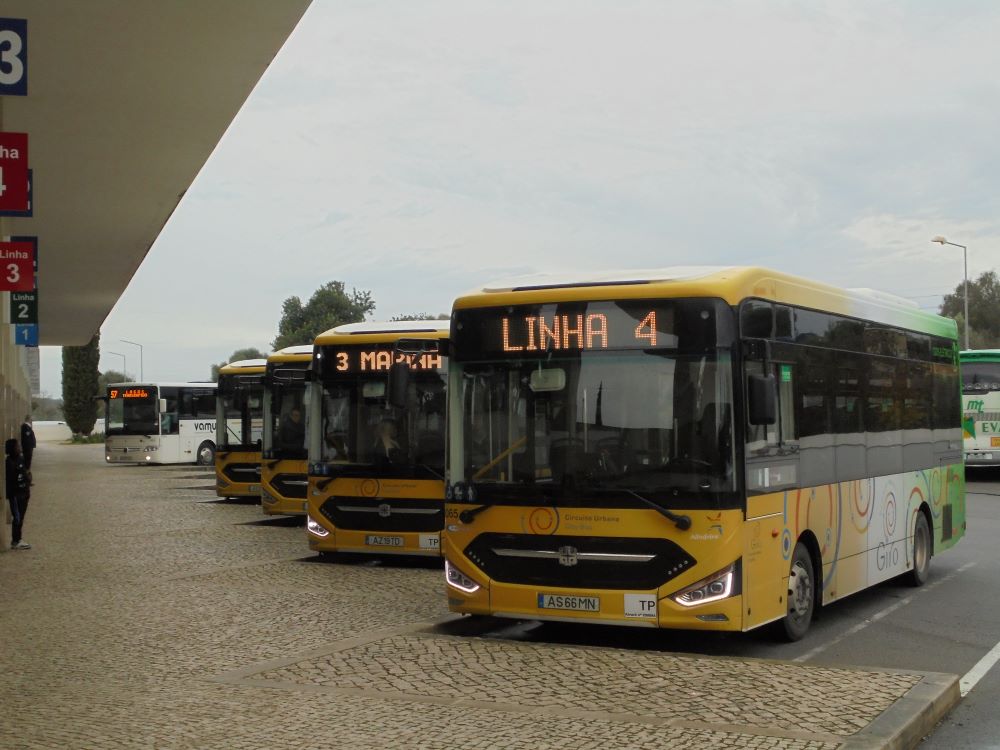 The information has been obtained from printed timetables and other local sources (like taking the bus) and is given in good faith.
The Albufeira Bus Station is 1 mile/1.6km from the old town! Almost all buses* to and from ALBUFEIRA end or start here.
Many do not go anywhere near the old town centre and beaches.
Map of Albufeira showing bus station and various town districts. Map here to show you 'how far' from old town and strip.

Large map of old town showing different bus stops and other transport information here. For detailed interactive street maps of Albufeira, visit www.albufeira.com

Distances from the Bus Station (by road) which is why you might need a a local bus or taxi to get to your final destination.

| | | | | |
| --- | --- | --- | --- | --- |
| Old Town Square 1.6km/1mile | "The Strip" 2.3km/1½ miles | Marina 3km/1¾ miles | Oura Praia Hotel 3.2km/2 miles | Páteo Village 2.4km/1½ miles |
| Montechoro 1.8km/1 mile and a bit | Oura Beach 3.1km/1¾ miles | Brisa Sol/Modelo 1km/1100 yards | Olhos de Agua 5.8km/3½ miles | Balaia 4.7km/3 miles |
There are usually taxis at the Bus Station. If you need one phone 289 583 230. Official Albufeira taxi website with fares etc here but is far from comprehensive.
Uber and Bolt work in Albufeira.You can use them if you prefer. The 'tuk-tuks' you may have heard of or seen are NOT licensed as taxis. They charge by the hour.

Albufeira Bus Station has a covered waiting area and café/bar. There are nineteen different bus stops, clearly labelled with the routes and destinations. There are however no maps to show where the buses go nor any timetables, except those on the noticeboard inside.

THIS A VERY BASIC MAP TO SHOW HOW THE LOCAL BUSES LINK THE BUS STATION AT ALBUFEIRA WITH THE SURROUNDING AREA
CLICK ON THE MAP TO SEE A LARGER SIZE
THE LOCAL 'GIRO' BUS ROUTES ARE COMPLICATED AT FIRST SIGHT AS THEY DOUBLE BACK AND GO ROUND VARIOUS LOOPS.
The official GIRO bus map for Albufeira's town buses is here - external link opens a new window. There are other maps here.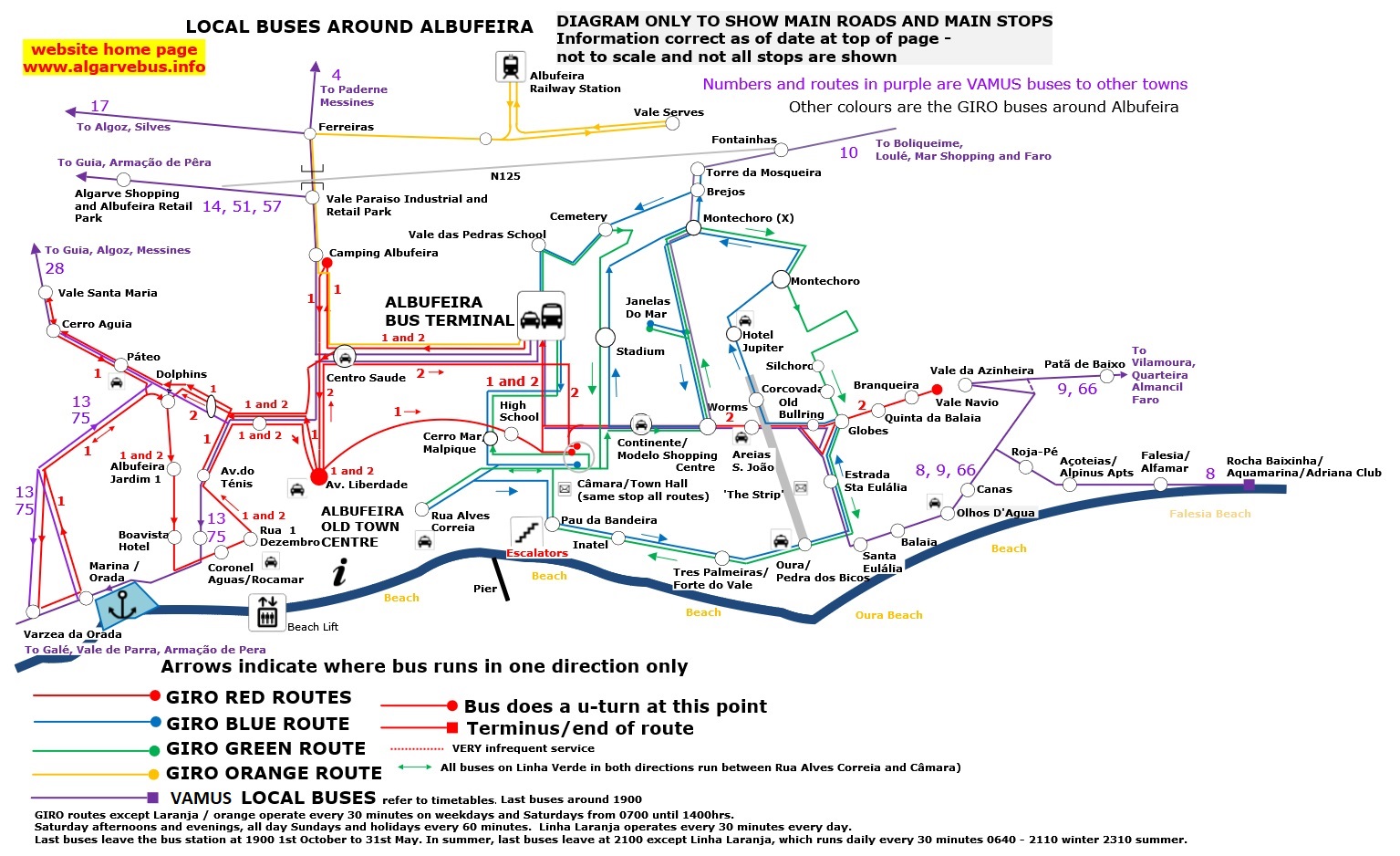 PLAN OF ALBUFEIRA BUS STATION click for full size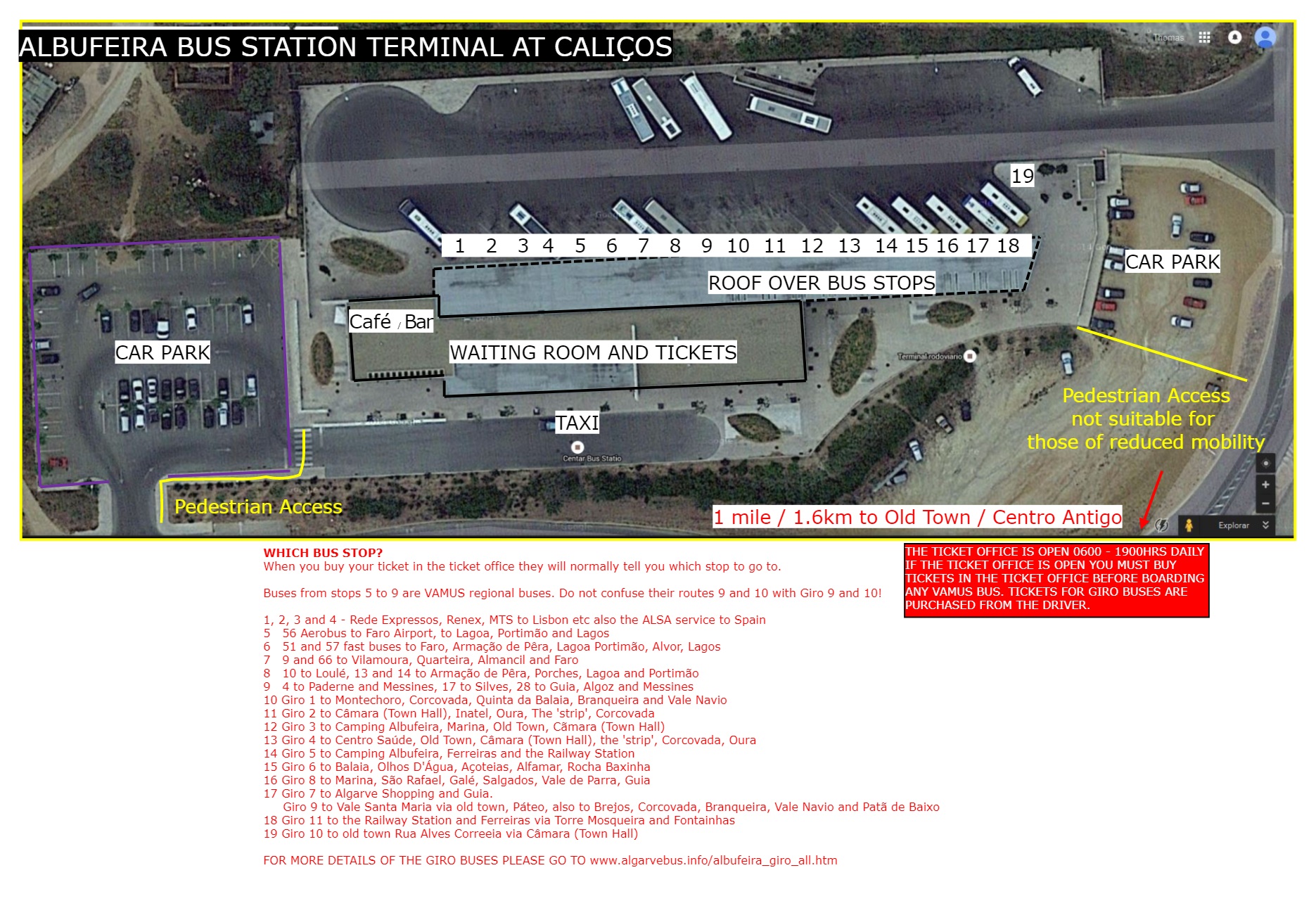 Albufeira local GIRO bus services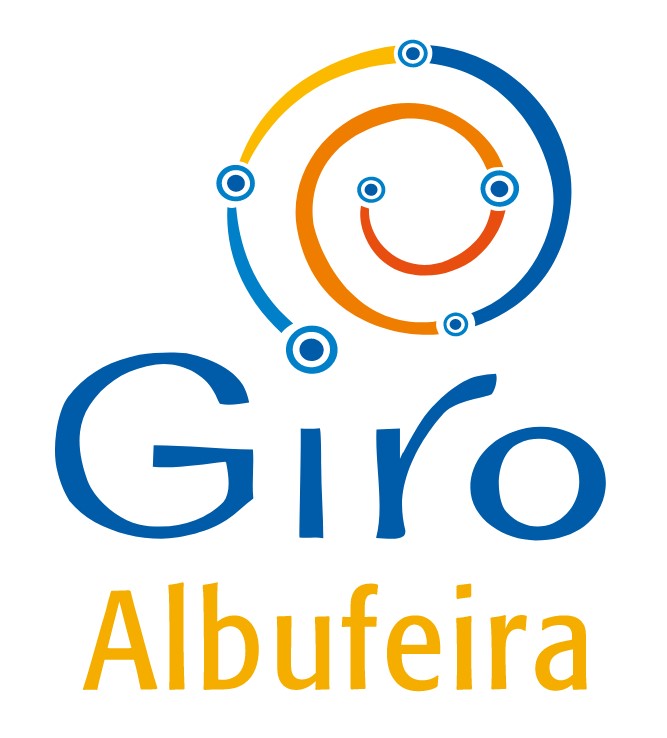 GIRO BUSES RUN EVERY 30 MINUTES ON WEEKDAYS, ALSO ON SATURDAYS UNTIL 1400hrs
SERVICE IS REDUCED TO ONE BUS AN HOUR ON ALL ROUTES, AFTER 1400HRS ON SATURDAYS AND ALL DAY SUNDAYS AND HOLIDAYS, EXCEPT
LINHA LARANJA TO FERREIRAS AND THE RAILWAY STATION WHICH RUNS EVERY 30 MINUTES ALL DAY EVERY DAY

CLICK THE GIRO LOGO TO THE LEFT FOR THE OFFICIAL ROUTE MAP SHOWING ALL STOPS
The council has splashed out on some new 32 seat buses.

New Bus exterior - click to see full size.

These buses have a ramp at the centre doors for wheelchairs and buggies.

New Bus interior

click to see full size.


Another type of vehicle in use. These also have a ramp at the centre doors and a wheelchair space

Fifteen seat minibuses are used on some journeys on weekdays and many journeys at weekends. These have a wheelchair and buggy space at the back with a ramp. Click for large size.

Below - GIRO buses of various types and colours at the bus station



The local GIRO bus network connects the Bus Station, the old town and other districts of Albufeira.
SUMMER times on the GIRO network apply from 1st June to 30th September.
GIRO BUSES FROM THE BUS STATION
Buses on four routes, Vermelha (Red 01 and 02), Verde(Green), Azul (Blue) all leave at the Bus Station at the same times, on the hour and on the half hour. The Laranja route buses to Ferreiras and the station leave at about 10 and 40 minutes past the hour. They run seven days a week (including holidays) at the same times. Except for Laranja, first buses leave at 0700, with last buses from the Bus Station at 1900 during the winter and 2100 during the summer.


Buses run only once an hour after 1400 on Saturdays, all day on Sundays and Holidays, except on Linha Laranja to Ferreiras which runs every 30 minutes all day, every day. First bus on Linha Laranja, to Ferreiras and the railway station, leaves the bus station at 0640am then every 30 minutes until 2040hrs (winter) 2240hrs (summer).


Fares


Cash fare is €1,40 valid for one journey. Pay on boarding if you do not have a pass or one day ticket. Single tickets are valid for one hour after first issue. You can use it to change to another GIRO bus to complete your trip. If you are asked to change buses at the bus station, show your ticket to the second driver. You do not pay again.

A one-day ticket costing €4,00 is available on board buses. For irregular users, a plastic pre-pay card (€3) is available which can be loaded with ten rides for 8 Euros or twenty rides for 16 Euros i.e. 80 cents each. Pre-pay cards will de-activate if not used for three months. Adding more credit will re-activate them. The cost of the pre-pay card (3 Euros) is refunded if you hand it back, but unused fares are not refunded. Monthly passes are also available, photo ID required. Passes are sold only at the Bus Station. It is rumoured that some hotels may have a stock! There are no discounts for seniors (except with the monthly pass) or for children except residents.


Official route map - external link.


You can save this to your own device. Printed copies of this map can be obtained at the bus station. The map will open in a new window.

Official timetables are NOT published. Please take a look at my timetables, which have been compiled after many journeys of exploration by myself and others! These do not list all the stops for reasons of brevity, but I have links to the official diagrams showing all stops.


GIRO bus stops, routes and times are now shown on Google Maps - but a warning! Many of the times shown on Google are WRONG by up to 10 minutes. Also, last buses are up to 30 MINUTES EARLIER than Google states. The times below and on linked pages are based on personal use of the system and are as correct as I can make them. There is no officially published timetable.


There are GIRO route maps at many, but not all, bus stops - here's a picture - but still no actual timetables!


The LINHA VERMELHA Giro 1(RED) route (timetable here) runs around the west side of town from the main bus terminal to Albufeira Camping, down to the old town at Avenida Da Liberdade, then up the hill to Páteo and Vale Santa Maria, back through Páteo, then down to Varzea da Orada and the Marina then back up the hill via Cerro Grande to the old town. After the old town it goes then to the Cámara and back to the main Bus Station. In its meanderings it does stop at some places twice.


The LINHA VERMELHA Giro 2 (DARK RED, a sort of plum colour really) (timetable here), runs as follows: Bus Terminal, Health Centre, Dolphins Roundabout, Cerro Grande, the old town at Ave. da Liberdade, then straight back to the Health Centre, past the Bus Station (stops outside, across the road!), then to the Câmara, along the main road Avenida dos Descobrimentos to Albufeira Shopping, Areais São João (The Strip), Bullring, Globes Roundabout, Quinta da Balaia, Branqueira village and the Vale Navio roundabout, then back to the Bus Station along the main road via Areais São João, the 'Worms' roundabout and Albufeira Shopping. The maps do show this a bit better. The red routes are often delayed in the summer, when traffic clogs the Avenida Da Liberdade in vain efforts to find a parking space.


The LINNHA VERDE (GREEN) route (timetable here) runs a clockwise route to the Vale das Pedras, Stadium, Câmara, Old Town (Rua Alves Correia), back to the Câmara, then along to Albufeira Shopping, Montechoro, Brejos, Globes Roundabout, Santa Eulália, Oura, Inatel, Câmara again, Old Town (Rua Alves Correia), Cerro Malpique and back to the Bus Station.


The LINHA AZUL (BLUE) route (timetable here) is the same as the green route (more or less) but in the opposite, anti-clockwise, direction.


The LINHA LARANJA (ORANGE) (timetable here) route runs between the Bus Station and Albufeira Railway Station via Camping Albufeira, Ferreiras and Vale Serves.

Bus Station <> Old town options

The BLUE route is the shortest way from the Bus Station to the Old Town. It will take you to the Rua Alves Correia, which is near the square and the 'Fishermen's Beach' area. The RED GIRO 01 route goes a rather roundabout way from the Bus Station to the old town centre (Avenida da Liberdade) about 200 metres from the square.

On your way back to the Bus Station, the RED GIRO 2 route from the Avenida Da Liberdade is the quickest, but stops OUTSIDE the Bus Station across the road. The RED GIRO 01 route goes a longer way round but goes inside. The GREEN route runs from Rua Alves Correia to the Bus Station via Cerro Malpique.

SUMMARY OF GIRO NETWORK BUS TIMES AT OLD TOWN STOPS
Old town stops map here. A summary below of bus times FROM the old town centre. Full timetables: RED 1, RED 2, GREEN, BLUE

SUMMER times on the GIRO network apply from 1st June to 30th September. All routes operate seven days a week, all holidays included.

From Old Town bus stop as below



To :- (nb destinations are not shown on the bus. Ask the driver if necessary.)

Buses leave at these minutes past every hour on weekdays and Saturday mornings. On Saturday afternoons after 1400hrs, also all day Sundays and Holidays

only the buses

marked in bold will run.


Route



Avenida da Liberdade Stand 3

Páteo, Vale Santa Maria, Marina

15 and 45, first bus 0715, last bus 1915 in winter, 2115 in summer
The journey to the marina takes about 15 minutes - it goes a long away around!


Vermelha (Red) 1

Avenida da Liberdade Stand 4

Câmara, High School/Indoor Market, Bus Station

15 and 45, first bus 0715, last bus 1945 in winter, 2145 in summer
The journey to the bus station takes about 10 minutes.


Vermelha (Red) 1

Avenida da Liberdade Stand 4

Health Centre, Bus Station, Continente / Modelo, 'The Strip', Quinta da Balaia and Branqueira

20 and 50, First bus 0720, last bus 1920 in winter, 2120 in summer
This bus stops OUTSIDE the main bus station. The journey from the town takes about five minutes.


Vermelha (Red) 2

Rua Alves Correia*
Câmara, Continente / Modelo, Brejos, Montechoro

15 and 45, First bus 0715, last bus 1915 in winter, 2115 in summer


Verde (Green)



Rua Alves Correia*
Oura, Santa Eulália, the 'strip', Montechoro, Torre Mosqueira, Brejos

11 and 41, First bus 0711, last bus 1911 in winter, 2111 in summer


Azul (Blue)



Rua Alves Correia*
Câmara, Cerro Malpique, Bus Station

15 and 45, First bus 0715 (except Sundays), last bus 1945 in winter, 2145 in summer. First bus on Sundays and Holidays in this direction is at 0745. The journey to the bus station takes about ten minutes.


Verde (Green)



Pau da Bandeira (top of escalators)

Oura, Santa Eulália, the 'strip', Montechoro, Torre Mosqueira, Brejos

13 and 43, First Bus 0713, last bus 1913 in winter, 2113 in summer


Azul (Blue)



THE

LINHA LARANJA (ORANGE ROUTE)

TO FERREIRAS AND THE RAILWAY STATION STARTS FROM THE BUS STATION AND DOES NOT SERVE THE OLD TOWN.
BUSES LEAVE AT 10 AND 40 MINUTES PAST EACH HOUR AND EVERY DAY FROM 0640. LAST BUS TO FERREIRAS LEAVES THE BUS STATION AT 2040 IN WINTER, 2240 IN SUMMER.
'CONNECTIONS´ FROM THE OLD TOWN REQUIRE A MINIMUM 15 MINUTES WAIT AT THE CENTRO DO SAÚDE (HEALTH CENTRE) STOP
* this is behind the multi-storey car park and the tall chimney.
* At this stop, buses on the Linha Verde (Green) route go at more or less the same times in both directions, so make sure you get on the right one!

ARRIVING IN ALBUFEIRA FROM OTHER TOWNS? LEAVING ALBUFEIRA FOR A VISIT SOMEWHERE?
FOR INFORMATION ABOUT COACHES (LONG DISTANCE BUSES) TO LISBON ETC CLICK HERE. MOST OF THESE NOW USE ONLY THE MAIN BUS STATION. FLIXBUS have a stop on the roadside just outside the old town area. FOR INFORMATION ABOUT SERVICE TO SEVILLE AND INTO SPAIN, CLICK HERE.

There are currently NO direct buses between Albufeira and the Airport.

Of the local bus routes, only the Albufeira town's GIRO buses go down into the 'Old Town' area – Centro Antigo. For many destinations you must go to the main bus station. Except, depending on where you may be staying, you may not have to go to the Bus Station if travelling to/from Guia, Galé, Loulé, Olhos D'Agua, Vilamoura or Quarteira.

Buses to other towns, except for one route, are run by the EVA bus company, whose official website is here. I have a summary of the main places you can get to here with links to detailed timetables.

Timetables are posted on the noticeboard, copies can be obtained from the ticket/enquiry office. There is no map of routes either on the official websites, at the bus station nor is one printed. For my map of Algarve bus routes, please click here.

The electronic destination boards do not show all departures, only those to 'important' places! There are separate enquiry and ticket offices for local and long-distance bus services. Remember that, if boarding at the Bus Station and except for GIRO and Frota Azul buses, you are supposed to buy your ticket at the ticket office. Some drivers are very strict about this!

The fast TRANSRÁPIDO buses to and from Faro and all fast buses to and from Lagos, Alvor, Praia da Rocha, Portimão, Lagoa, Armação de Pera, Guia and Faro STOP ONLY AT THE MAIN BUS STATION - nowhere else!
The old town is basically a pedestrian zone, with limited access for residents and those important beer deliveries. There are car parks on the edge of the area, but the closer you get the earlier they fill up. During high summer season, most of the town centre car parks, including the two multi-storey, are full by 9am so you may end up parking a fair way out and having to take a bus into town and back up the hill afterwards. The surface car park at the top of the Avenida Liberdade (marked on the map below) is paying parking area. There are spaces during the day in high season, as locals baulk at paying the €5 fee, but it is full on summer evenings. The multistorey car park opposite is open only in summertime.

If you are coming into or leaving Albufeira on the Transrápido or the Lagos - Albufeira fast buses, the Bus Station is the only place they stop. You might need another bus or taxi as an alternative to a long walk to your final destination. Buses from Vilamoura, Olhos D'Agua and Balaia stop opposite the Continente Modelo supermarket (a.k.a. Albufeira Shopping) which is a few minutes walk into town - see above and the map below.

If you are coming into town on an 'ordinary' bus from the north (eg Ferreiras, Guia or Silves) these buses stop at the Centro de Saúde (health centre) before the Bus Station. That is much closer to the old town than the Bus Station, about 7 or 8 minutes walk along the flat footpath into town. This goes under the main road in a tunnel, so is quite safe. Map.

GOING TO /COMING FROM VILAMOURA, QUARTEIRA, FARO? ALSO GALÉ, GUIA, SILVES OR LOULÉ? YOU MAY NOT HAVE TO GO ALL THE WAY TO THE BUS STATION.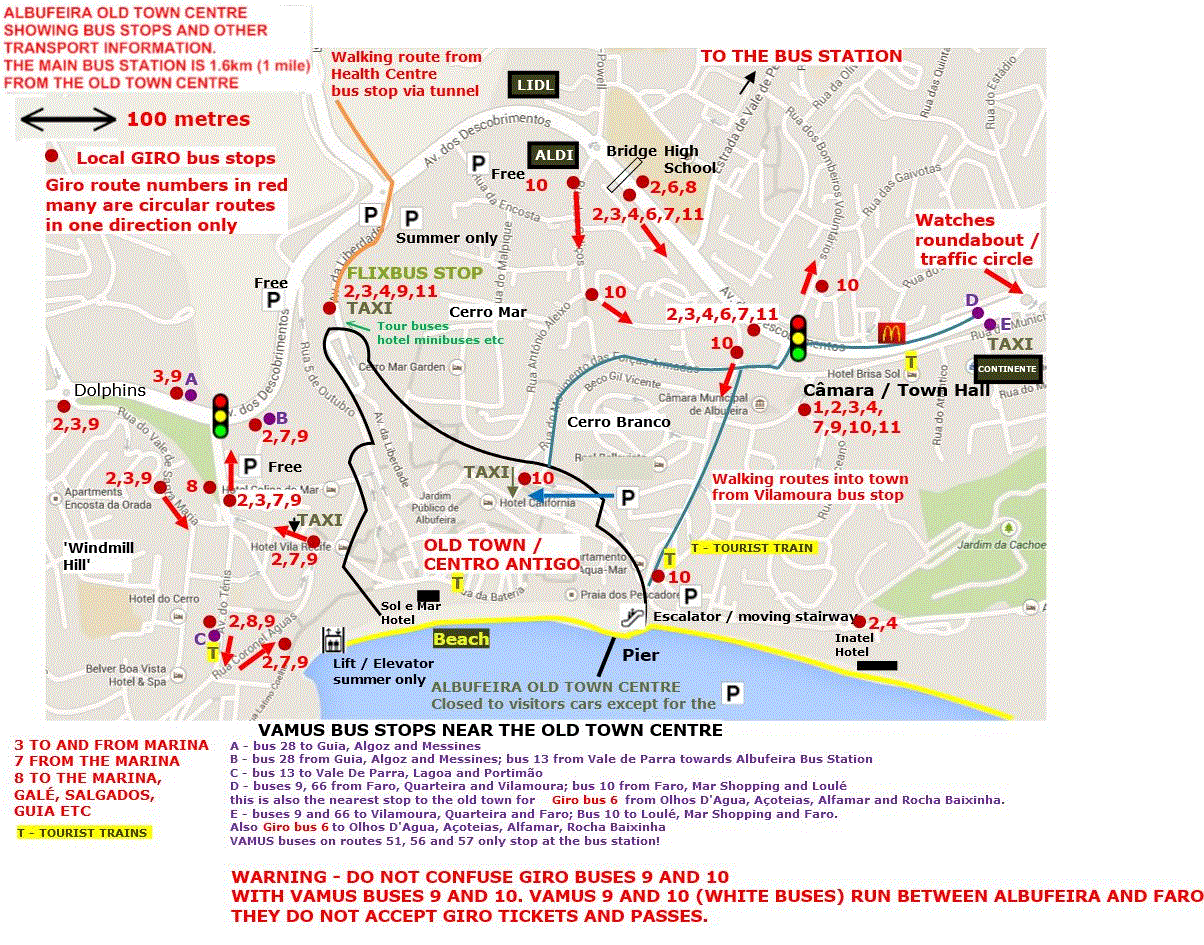 You don't have to go to the Bus Station if travelling to/from Guia, Galé, Loulé, Olhos D'Agua, Vilamoura or Quarteira. Click on the map to see it double the size - close the window to return to this page

Faro (except Transrápido buses), Quarteira, Vilamoura, Olhos De Água, Balaia

For the Old Town of Albufeira , the nearest stop for EVA buses to/from Qiuarteira, Vilamoura, Olhos d'Agua, Balaia etc is at the Continente Modelo shopping centre. There is NO BUS from there into the old town. Walk down to the traffic lights by the fire station, cross the main road, turn right, keep the Câmara (Town Hall) to your left and go down the hill that's just about in front of you (the Rua do MFA) to the bottom, then turn right again and you will be in the square. It's about 5 - 7 minutes walk in all. MAP TO THE LEFT - walking route marked in red - CLICK TO SEE DOUBLE SIZE. You can catch a bus back up the hill from Rua Alves Correia to the Câmara and Continente on GIRO Linha Verde (Green)

Bus to Loulé for the market and Mar Shopping / IKEA
Currently there are few buses each way offering any time at the Saturday market or at IKEA / Mar Shopping. Mar Shopping is about 15 minutes longer journey than Loulé. Details here.

The buses to Loulé stop outside the Continente supermarket (the stop marked F on the map), then on the Estrada Vale das Pedras, which runs to the north of Montechoro. There is a stop called Montechoro (X) or Crossroads up near the roundabout where the road leads off towards Fontainhas. The GIRO buses stop there also; they call the stop Montechoro Norte. Using that stop will save you a long walk if you are staying in that area and wish to go to Loulé. See map.
Buses to Galé, Salgados, Vale de Parra
This route is running a limited service on weekdays only. There is currently no Saturday, Sunday or Holiday service.

Buses to and from Galé and also the very infrequent local buses via Vale de Parra To Armação de Pêra, Lagoa and Portimão stop at the Health Centre (Centro de Saúde) and on the edge of the old town. Outbound buses stop in Avenida do Ténis outside the Escola Primaria - Junior School. Inbound buses stop on Rua Coronel Aguas and also on Rua 1 Dezembro near Merlins Bar.

To Silves via Algoz

Currently three buses each way daily with an additional three buses on weekdays. Buses to and from Silves also stop at the Health Centre (Centro de Saúde) and outside Albufeira Camping.

To São Bartolomeu de Messines via Guia and Algoz

Currently limited to three journeys each way daily.

The FROTA AZUL bus between Messines, Algoz, Guia and Albufeira also stops at Modelo and Areias São João, close to 'the Strip', also near the old town on the main road and in Páteo. EVA's buses to and from Guia stop at the Health Centre (Centro de Saúde) and outside Albufeira Camping but are very infrequent. The fast buses (Transrápido and Linha Littoral) do not stop anywhere except the main bus station. Click here for a map showing all the EVA and Frota Azul bus stops in and around Albufeira.
ALBUFEIRA TOURIST 'TRAINS'
THESE HAVE RE-STARTED OPERATION

There are now two routes, one to the east of the town more or less on the old route, with a new route over to the west of the old town, going around Cerro Grande and the Marina areas. The eastern route currently operates at the strange interval of 50 minutes between journeys. The western route every 40 minutes. Both run from from around 0900 to 2200 daily. Times are clearly shown at the stops.
Their website is www.turistrem.com
You can see a copy of their new leaflet here (external link) but this does not show times and prices. Many stopping places are the same as where local buses stop.
Runs a circular route (Sunrise route) all year and every day between the Old town, Brisa Sol/Modelo, Areias São João (for 'the Strip' and the Oura area.)

This is one of those little things disguised as a train but is in fact a 'road train'. The eastern or sunrise route runs between in one direction only between the Brisa Sol Hotel, Areias São João for the 'strip'; then Estrada da Santa Eulália near the old bullring and the new ALDI store (under construction), then to the Rua Vasco da Gama, Tres Palmeiras roundabout and a stop at the top of the escalators down to the old town beach.. The two central stops are marked T on the map above.

It stops only at these places and does provide a useful, if rather expensive, direct link between the old town area and São João.

The western or Sunset route starts at the Marina, then runs up the hill into town stopping at the São Sebastião church, the Praça da República near the museum then back to the marina, with only one stop outside the Belver Boa Vista hotel at the GIRO bus stop.

Timetables are clearly displayed at the stops. Adult fare for a single journey is €3. Children age 6 to 11 and those over 65 pay €2.50. A day pass with unlimited journeys on one route is €5.00 for adults, €4.00 for children and seniors. For both routes together, the full price for a day ticket is €7.Children aged 5 years or under travel free. The complete journey i.e. all around the circle takes 40 minutes.

If you are thinking of using these as a means of getting from A to B, local buses are much cheaper and for three people together a taxi is cheaper still for many journeys.

ALBUFEIRA SIGHTSEEING TOURS - RED AND BLUE DOUBLE DECKER OPEN TOP BUSES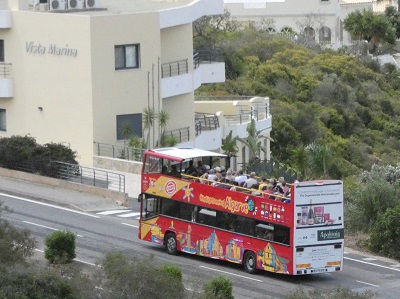 This is not a public transport option as such. It costs €19 for one day's travel, €38 for 4 days. Children 12 and under travel half price. However, if you are in somewhere like Salgados, São Rafael or Galé, where normal bus service is very limited, you might find this option more economical than using taxis every day. Visit their website for maps and more information. There is no proper timetable published anywhere, but buses on their 'red' route around the centre and west of the area run every every 30 minutes in summer, every 60 minutes in winter. Service in summer (July to October) is from 0930 - 1900hrs, in winter last journeys are at around 1600hrs. Their 'blue' route, the the east of town and into Vilamoura, is less frequent. (the buses used on Blue Line are the same red ones) That runs once every hour in summer, once every two hours in winter. In previous years these tours have not operated between 1st December and mid January. I can find no information about what will happen this year.

Outdoor markets, Algarve Shopping Mall and Marina

Albufeira outdoor market (first and third Tuesdays of the month, mornings) is held just around the corner from the Bus Station in Estrada Vale das Pedras. Parking nearby is very difficult on market days so, unless you are planning to buy something huge, the bus will suit. There are two parking areas for maybe 300 cars in all, one by the Bus Station about 100 metres from the market entrance and another one on the other side of the Bus Station about 250 metres away from the market. You can also park on the road that leads towards the swimming pool - if you get there early enough.

Ferreiras outdoor market (a smaller version of the Albufeira one) is held on the 2nd and 4th Tuesdays of the month. This is on the N395 road, just to the south of the village centre opposite the concrete works. All buses serving Ferreiras stop about 150 metres away. Map.

Albufeira Marina is on the western edge of town about a mile/1.6km from the old town centre and about two miles/3.2km from Areias São João. The Marina is served from the old town (Avenida da Liberdade) by the GIRO 1 red route, which costs €1.40. In winter, the last bus to the Marina leaves Old Town at 1915 and from the Marina up the hill into town the last bus is at 1930. In summer (1st June to 30th September) buses go down to the marina until 2115, last bus back up is at 2130.

Buses run every 30 minutes on weekdays, also on Saturdays until 1400. On Saturday afternoons, also all day Sundays and Holidays, they are only once an hour.

The marina bus stop location is shown on this map.

The Giro 1 bus route is circular. Starts at the Bus Station then Health Centre - Camping Albufeira - Old Town - Páteo - Vale Santa Maria - Páteo - Varzea da Orada - Marina - Dolphins - Cerro Grande - Old Town - Camâra (town hall) and back to the Bus Station. Connections are available at Camâra with the Green (Verde) and Blue (Azul) routes and on the second call at the Old Town or the Camâra with the Red 2 (Vermelha 2) route which goes to the Vale Navio via the main Avenida across town, the 'strip' area and Branqueira.

Algarve Shopping Mall (website) and Albufeira Retail Park

Algarve Shopping website has some pages in English. The Albufeira Retail Park (with Iceland's store) is adjacent,but there is now a fence around the site and the only walking route is a very long way and right around the back of Algarve Shopping. The huge Leroy Merlin DIY store and that of Sportdirect.com are across the road. The cinema at Algarve Shopping has programmes daily from around 1400hrs, details here - all films made in English are shown in English except some children's cartoons etc. VP in the programme list indicates where a film is in Portuguese, VO in the original. If there's nothing, it will be in English or the original language (French, Chinese etc) if not.

These locations are about four miles (6km) out of town on the N125, about a mile (1.6km) east of the village of Guia. They are not well served by bus. The only buses are those from the Bus Station to Lagos (Transrápido and Linha Littoral) and those to Portimão via Guia. Times below, but in all honesty unless you are fairly brave a taxi is probably the best way. There is a taxi rank at the Mall for the ride back. Taxi fare is about 8 or 9 Euros, depending on where in Albufeira you are coming from/going to. There is also a free bus on weekdays from some parts of Albufeira - see below.

Local buses also run between Alcantarilha, Armação de Pera, Porches, Lagoa and Algarve Shopping - times here. There is no bus from Ferreiras. The village of Guia is served by buses from Páteo, Algoz and Messines but that leaves you a mile (1.6km) walk (uphill) to the Mall along a very busy road with no proper footpaths.

Bus times from Albufeira Bus Station to Algarve Shopping and back

There are NO BUSES between Albufeira Old Town area or the 'strip' area and Algarve Shopping. All buses leave from the main bus station and most stop nowhere else.

Many buses are currently not operating with very few at weekends. Buses not currently running are marked like this.
Buses highlighted run non-stop from Albufeira Bus Station to Algarve Shopping. The other buses also stop at the Health Centre (bottom of the hill near Eden Resort) about 2 minutes after leaving the bus station and at Albufeira Camping about five minutes after leaving the Bus Station. Fare is €3,40 on the non-stop buses, €2,35 on the others.
Weekdays (Mondays to Fridays) except holidays at 0800, 0845, 0855, 0910, 0955, 1100, 1200, 1325, 1415, 1525, 1615, 1700, 1800, 1820, 1910 and 2030
Saturdays, Sundays and Holidays: 0800, 0845, 0910, 1100, 1200, 1325, 1415, 1615, 1700, 1800, 1820, 1910.
When you get off these buses there is a very busy road to cross. Use the bridge, even though this means an extra 200 metres to walk.

Bus Times Algarve Shopping back to Albufeira - buses highlighted run non-stop to Albufeira Bus Station. The others stop at Albufeira Camping and the Health Centre.

Weekdays (Mondays to Fridays) except holidays at: 0651, 0751, 0806, 0846, 0931, 1022, 1101, 1316, 1336, 1531, 1601,1637, 1731, 1816, 1916
Saturdays, Sundays and Holidays at 0807, 0846, 0931, 1022, 1316, 1336, 1531, 1601,1637, 1731, 1916
The stop for return journeys is directly opposite where you got off.

WARNING - ON ANY DAY THE AFTERNOON AND EVENING BUSES FROM ALGARVE SHOPPING TOWARDS ALBUFEIRA ARE ROUTINELY 10 - 15 MINUTES BEHIND SCHEDULE OWING TO TRAFFIC CONGESTION.

Free bus Olhos D'Agua <> Albufeira <> Algarve Shopping
For a printable copy of the times, please click here.
OPERATES IN SUMMER ONLY. THESE ARE THE 2021 TIMES. 2022 SERVICE MAY RUN FROM MID MARCH TO LATE SEPTEMBER BUT NOTHING WILL BE KNOWN FOR SOME MONTHS YET.


Buses run on WEEKDAYS only except holidays


Does NOT stop in Albufeira old town


19 July to

13 August

only

Buses return from the Mall
at

1130
1430
1715
1945

dropping off as required
at the same places.

1945 - 19th July to 13th August only. Only goes to the same places as the 1802 towards Algarve Shopping

Olhos D'Agua Tui Blue Falesia Hotel

0915

1217

1517

1802

Porto Bay Falesia Hotel

0914

1218

1518

1803

Hotel Riu Guarana

0913

1219

1519

1804

Santa Eulalia bus stop by Bar Coyote

0905

1227

1527

↓

Worms Roundabout+++

0903

1229

1529

↓

Paraiso de Albufeira Hotel

0901

1231

1531

↓

Bus stop at the Watches Roundabout ***

0900

1232

1532

↓

Arrive Algarve Shopping

1000

1300

1600

1845
The bus used has 40 seats which cannot be reserved.
The official notice adds the following for those staying at certain other hotels etc :
Luna Apartments - board at Porto Bay Falesia
Vila Petra - board at Montechoro Hotel
Clube Praia da Oura, Hotel Pedra dos Bicos and Oura Beach Club - board at Santa Eulalia stop
Tropical Sol, Luna Oura - board at Worms roundabout
Brisa Sol, Alagoa Mar, Paladim and Real Bellavista - board at EVA Bus stop Watches Roundabout ***
+++ this is the bus stop at the 'Worms' roundabout outside the Pingo Doce supermarket.
*** this is the normal bus stop on the same side of the road as McDonald's
The first bus goes round the hotels in the reverse direction and stops on the other side of the road.
I have to say that allowing 28 minutes to get from the last stop to Algarve Shopping is about twice as long as it actually should take.
For the first bus it may stop on the 'opposite' side to the other journeys. So for the Brisa Sol etc stop, it would be the one on the same side as the hotel, not across the road. Best check at your hotel.

TAXIS, UBER, BOLT ETC

Licensed taxis in Albufeira are painted either beige or green and black. There is just one number to call if you need a taxi at your hotel or other lodgings - 289 583 230. You can't reserve in advance, just call a few minutes before you need to leave or use the 'app' you can download from the official website here. Base fare is €3,25 for the first three kilometres, then it's 90 cents per kilometer afterwards. Fares (including base fare) are 20% higher after 10pm, at weekends and on public holidays. Baggage is €1,60 extra. If you phone for a taxi, that's 80 cents extra.

You can try to hail a taxi in the street, but 99% of the time they are already on a call so will not stop. If you are in the old town centre or other tourist hotspots, you must go to a taxi rank. Be warned that in high summer queues can be VERY long; half hour waits are not unknown. You may find the GIRO bus, tourist train or walking a better choice! Outside the peak season the drivers will bite off your hand for a fare.

For some sample fares between the centre of Albufeira and various locations near and far, take a look at the official notice copied here. This will open in a new window.

There is also the official Taxis Albufeira website you may wish to consult here.

Uber and Bolt vehicles are available all year around. In summer many drivers are 'imported' from other parts of the country. They don't know where anywhere is, so be sure you do! I have heard at first hand of drivers 'getting lost' on what should be short and simple journeys. They rely on GPS and not local knowledge or common sense.

And this might sound stupid, but do make a note of the address at which you are staying and have it on a bit of paper to show the driver if need be. I have heard tales of people forgetting where they are supposed to be going back to, especially after a good night out! It's 'a big white hotel' will not help much.

PARK AND RIDE?

There is nothing official, but there is free parking next to the main (out of town) bus station. Visitors parking there have easy access to all local buses on the GIRO network. Location map here. Parking in most parts of town has to be paid for unless you can find a place in a street or on waste ground.

www.algarvebus.info