Albufeira Giro Bus Route 2 - CIRCULAR

Bus Station - Câmara - Três Palmeiras - Oura - Estrada Santa Eulália - Arcadas São João (the strip) - Albufeira Shopping -
Old Town Avenida Liberdade - Dolphins - Rua Coronal Águas - Health Centre - Bus Station
The information has been obtained from personal use (like taking the bus) and is given in good faith.
Official timetable and route map click or tap here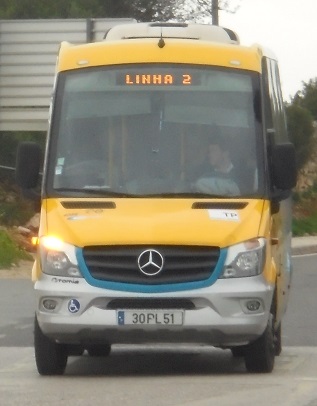 Operated by Grupo Barraqueiro under contract to Albufeira Council
WEEKDAYS- bus runs Mondays to Fridays (weekdays) only except holidays
SATURDAYS, SUNDAYS AND HOLIDAYS - bus runs Saturdays, Sundays and Public Holidays

Infos en français, auf Deutsch, em Portugues içi, hier, aqui
ROUTE 4 RUNS THE OPPOSITE WAY AROUND BETWEEN THE AVENIDA DA LIBERDADE AND THE BUS STATION VIA OURA
WARNING ! THIS BUS DOES NOT GO TO OLD TOWN (AVENIDA DA LIBERDADE) AFTER STOPPING AT AVENIDA DO TÉNIS NO, I DO NOT KNOW WHY EITHER!
ROUTE 9 RUNS VIA THE SAME ROUTE BETWEEN THE DOLPHINS AND AVENIDA DO TÉNIS AND DOES GO DOWN INTO THE OLD TOWN

THERE MAY BE LATER BUSES IN SUMMER ACCORDING TO THE OFFICIAL TIMETABLE. WE SHALL SEE!

NOTE - on weekdays the buses at 0730, 0830 and 1000 go via the Prof. Diamantina Negrão school and will be five minutes later at the Arcadas São João and after.
(%%) - this stop is outside Janelas do Mar apartments. Route 2 does NOT stop here on Saturdays, Sundays and Holidays. Route 6 and Route 9 stop here daily
$$ - route 9 also stops here and goes down into the Avenida da Liberdade before going to the Centro Saúde and Bus Station
(C) across the road from the big ALDI supermarket, just before the roundabout itself.

Links to timetables on other Giro routes below. For an overview of the system, including maps and fares, please click or tap here.