Albufeira Giro Bus Route 6
Bus Station - Albufeira Shopping - Brejos - Montechoro - Corcovada - Santa Eulália - Balaia - Olhos D´Água - Açoteias - Falésia - Rocha Baixinha

The information has been obtained from personal use (like taking the bus) and is given in good faith.
Official Giro timetable and route map click or tap here
Click here for times of the faster VAMUS buses between Albufeira Bus Station and Laranjal via Olhos d'Água

GIRO TICKETS AND PASSES CANNOT BE USED ON THE FASTER VAMUS BUSES BETWEEN ALBUFEIRA AND LARANJAL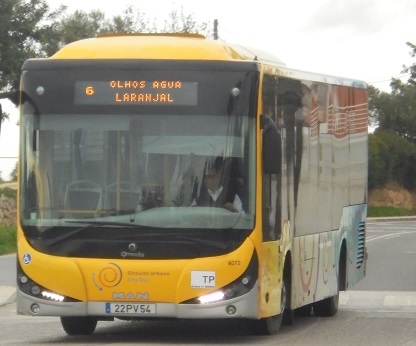 Operated by Grupo Barraqueiro under contract to Albufeira Council
Daily - bus runs every day including holidays
MFO - bus runs Mondays to Fridays (weekdays) only except holidays
SSH - bus runs Saturdays, Sundays and Public Holidays
Infos en français, auf Deutsch, em Portugues içi, hier, aqui

!!! IMPORTANT! ROAD CLOSURE! BUSES DIVERTED!!!
The road between Olhos D'Água (Laranjal) and Açoteias is closed until mid-April for construction work. Buses going to and from Alfamar and Rocha Baixinha will be diverted
It is a long diversion. Observations are that the buses towards Albufeira are running about ten minutes later than the published times, some others also.
The stop at Roja Pé (the one after Laranjal) cannot be served at all. The bus company has yet to announce any permanent changes to timetables.

(A) - outside the high school by the bridge just down the road from ALDI and LIDL. Does not stop here going towards Albufeira Bus Station. Nearest stop is the Caliços market.
(B) this stop is outside the large Continente Supermarket and is the nearest stop to the old town centre of Albufeira 7/8 minutes walk - map. There is no bus connection.
(C) Dr Francisco Cabrita School - this stop is outside the Janelas do Mar apartments. Route 9 also stops here
(D) - these are the stops by the roundabout outside the large ALDI supermarket. Buses towards Olhos D'Água stop on the roundabout itself.
Buses towards the Bus Station stop just before the roundabout outside the big Chinese shop
(E) this stop is outside the Aquamarina and Adriana Beach Club resorts
Links to timetables on other Giro routes below. For an overview of the system, including maps and fares, please click or tap here.