Albufeira Giro Bus Route 9
Vale Santa Maria <> Páteo <> Old Town (Centro Antigo) <> Health Centre <> Bus Station
<> Câmara Municipal (Town Hall) <> Albufeira Shopping <> Stadium <>
Brejos <> Correeira <>Arcadas São Jõao (the 'strip') <> Rotunda Esfera Armilar (outside the ALDI supermarket by the old bullring) <>

Vale Navio <> Branqueira <> Vale Azinheiro <> Patã de Baixo

The information has been obtained from personal use (like taking the bus) and is given in good faith.
Official timetable and route map click or tap here
Do not confuse this bus with VAMUS route 9 Albufeira - Faro which stops at some of the same places!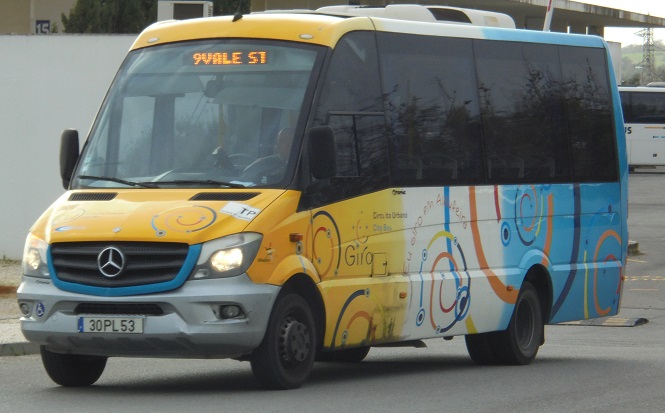 Operated by Grupo Barraqueiro under contract to Albufeira Council


Infos en français, auf Deutsch, em Portugues içi, hier, aqui



Branqueira - buses do NOT stop in Branqueira in this direction. There is stop called Camino Semina about 300 metres before the village centre.
## Route 1 also runs between these places and the Bus Station via a different route
++ Route 2 also serves these stops but does NOT go via Avenida Liberdade en route to the Centro Saúde and Bus Station
(%%) this stop is outside Janelas do Mar apartments
($) this stop is outside the big Chinese shop and across the road from the large ALDI supermarket.
$$ - the official map shows this strange diversion and I have been on buses that went that way. Some drivers forget!
GIRO Route 3 runs from Avenida da Liberdade to Rotunda Golfinhos, Páteo and Cerro D'Águia (but only in this one direction) daily at these times.


Links to timetables on other Giro routes below. For an overview of the new system, including maps and fares, please click or tap here.