Train/bus connection summary for Albufeira railway station
The information has been obtained from printed timetables and other local sources (like taking the bus) and is given in good faith.

THE TIMES BELOW ARE IN EFFECT UNTIL FURTHER NOTICE
THERE ARE TWO BUSES BETWEN RAILWAY STATION AND TOWN, GIRO ROUTES 5 AND 11
THEY TAKE DIFFERENT ROUTES! NUMBER 11 GOES INTO THE OLD TOWN CENTRE, NUMBER 5 DOES NOT.

Albufeira Railway Station is about 5.5km (3.5 miles) from the old town centre; it is just outside Ferreiras.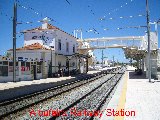 There are two bar/cafés at the station, good places to wait! The bus stop is immediately outside the station.
There is a taxi rank at the station but sometimes no taxis. Call a taxi on 289 583 230; there is a public phone.
Uber and Bolt operate in the area.

The bus timetable is NOT designed to provide connections with the trains. The bus may not wait if the train is late.
Only those buses that may offer a connection with trains are shown. Cash fare to any stop in Albufeira is €2,40. Contactless NOT accepted.

Albufeira Bus Station is over half a mile (0.8km) from some hotel areas, at least a mile (1.6km) from other parts of town.
It is about a mile/1.6km from the old town area and beach. Information about other local buses in Albufeira town here
AT THE ALBUFEIRA STOPS THERE ARE CONNECTIONS* WITH THE OTHER GIRO ROUTES TO/FROM OTHER PARTS OF TOWN.
You may be able to use the same ticket when changing to another GIRO bus to complete your journey.

* Last buses on the other GIRO routes leave Albufeira bus station between 1900 and 1930 in winter, later on some routes 2100 - 2200 from 1st June to 30th September.
For details of the other local buses in and around Albufeira, click or tap here

DAYS OF OPERATION: Daily – train runs every day, buses usually do not
MFO - train or bus runs Mondays to Fridays (weekdays) only except holidays
SHX – train does not run on Sundays and Holidays


FOR COMPLETE TRAIN DETAILS SEE THE TRAIN TIMETABLE; for complete bus service route 5 click here and route 11 click here
Route 11 buses stop at Camping Albufeira (which is opposite Clube Albufeira) about 5 minutes before arriving in Albufeira Avenida da Liberdade
Route 5 buses stop at Camping Albufeira about 5 minutes after leaving the Bus Station. Stops for both are on the main road, not the one at the entrance


*** There are NO direct buses from the old town towards the railway station. You must always go via the main bus station. Allow plenty of time


Note 1

- Bus 11 at 25 past the hour runs on weekdays only. At weekends the next bus is at 47 or 54 minutes past the hour. Bus 5 runs daily.


Note 2

- Bus connection only available 1st July to 30th September, to be confirmed


Note 3

- I would not take a chance on this to catch the 1900 to Lagos!


Note 4

- Bus runs on weekdays only. At weekends the only buses leave the bus station at 30 minutes past the hour, on both routes.

Complete timetable for Giro 5 here and for Giro 11 here ALL Giro routes here



UPDATED MAP WILL BE HERE VERY SOON!

www.algarvebus.info