Carvoeiro area - Rota das Falésias - Cliffs route

INFORMED THAT THIS SERVICE WILL 'CEASE INDEFINTELY' AFTER 11th OCTOBER.
THIS IS NOW CONFIRMED AT THEIR WEBSITE

I leave the details below in case it should be restarted for summer 2019

Times are clearly shown at stops, example here. Any information gratefully received - email me.
This is a minibus connecting Lagoa, Carvoeiro, Ferragudo and various tourist resort areas nearby. It is NOT operated by the main company EVA, their tickets are NOT VALID.
Details are on their
website
. The service runs "every 30 minutes approximately" - their words not mine.
It is apparently operated between 1000 and 2200 in summer, until around 1800 at other times of the year.
There is no timetable information on their website. If you can help, please email me
here
.
Tickets - €10 for 24 hour ticket or €15 for 48 hours. Child fares €8 and €12 respectively. Purchase tickets from the driver. There are no 'single' trip tickets.
CLICK
HERE
FOR THE TIMETABLE OF THE EVA BUS BETWEEN LAGOA, CARVOEIRO AND PRAIA DO CARVALHO
ROUTE MAP - GEOGRAPHICAL - click to see full size - big file! Stops are numbered in sequence thanks to Kevin for this.
The stop in Lagoa called 'Piscinas Sports Hall' is outside the town swimming pool next to the Bus Station.
Note that there is no longer a direct journey from Carvoeiro to Ferragudo in that direction.
STOPS DIAGRAM - YOU CAN ONLY BOARD OR ALIGHT AT THESE DESIGNATED STOPS

Note three stops in Lagoa - at Largo da Igreja (Church Square) in Lagoa, which is about 500 metres from the bus station where 'normal' buses stop, by the town.
The stop called 'Piscinas - Sports Hall is much closer to the bus station. Thanks to Jörg for the map.
ADDITIONAL INFORMATION ON TIMETABLE


Information in this section was updated on 28th May 2018 following a visit to Lagoa.
At that time the Rota das Falesias was operating with two buses which effectively meant a bus coming about every 45 minutes.
Departure times from Lagoa Piscinas as shown at the stop, marked in green above and 100 metres from main bus station.
DAILY at 1005, 1045, 1135, 1210, 1305, 1340, 1435, 1510, 1605, 1640 and 1735.
Times at the Church (red) and Market (blue) stops five minutes earlier than those above.
Estimated times elsewhere : Ferragudo 15 minutes after leaving Lagoa, Carvoeiro 35 minutes, Praia do Carvalho 50 minutes, Carvoeiro back to Lagoa about 1 hour.
I cannot confirm the time of the last journey back to Lagoa, but possibly not be much later than 1800hrs from Carvoeiro.
If anyone can confirm this I would be grateful -
email me
.
A correspondent wrote 'during high season they may operate with three buses which would result in a more frequent schedule every 30 minutes'. (This appears to be correct.)
They also operate later into the evening.
SESMARIAS STOP
Notes about other stops:
In Carvoeiro the same stop is used for buses in both directions (main square at the beach), If not sure ask the driver if buses go to Praia do Carvalho or to Sesmarias.
FERRAGUDO
The Rota das Falesias stop is across the little canal from the EVA stop and about 5 minutes walk from the water taxi stop. Click or tap map for larger size
The bus at the stop in Ferragudo, Largo do Regato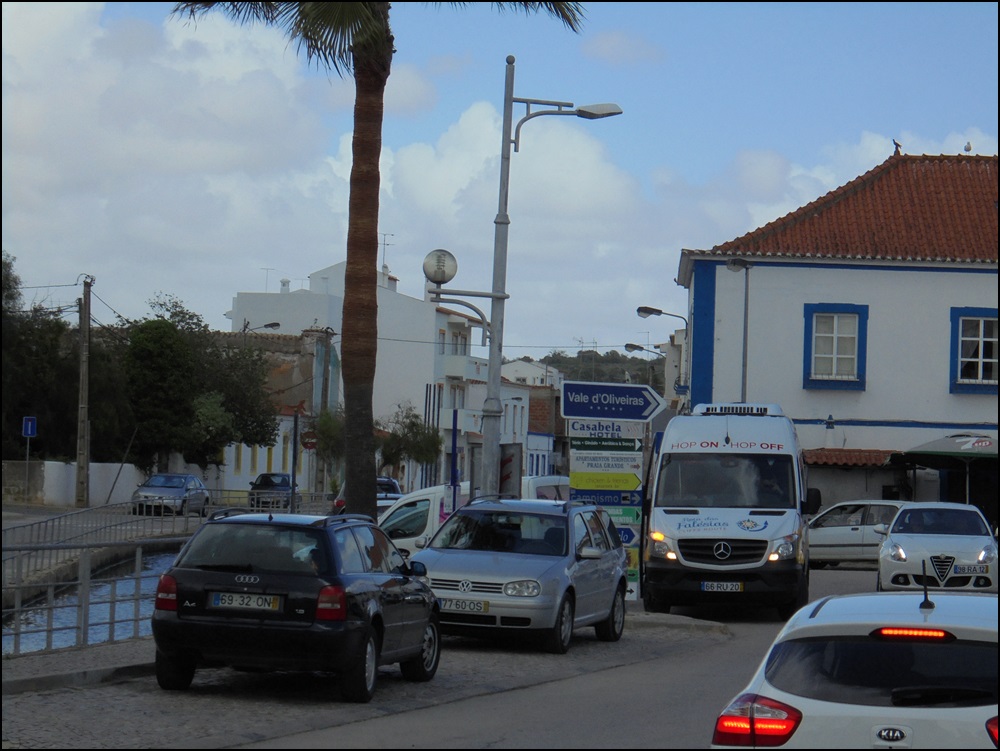 PRAIA DO CARVALHO STOP

Praia do Carvalho: buses don't stop at the beach but in the luxury resort Club Atlantico (close to the tennis courts). It's about a 10 minute walk to/from Praia do Carvalho.
Vale de Milho stop is also a bit away from main road and the bus stopped only in one direction towards Carvoeiro, but not from Carvoeiro to Praia do Carvalho.
If you are tempted by the
Praia do Carvalho
, please read below.
Access to the beach is 150 steep steps down from the road (and of course 150 steps back up) and the last 20 of those are through a little tunnel bored through the rock.
The beach is entirely enclosed by cliffs; the steps are the only access except by boat!
There is some good walking along the cliffs and hills in the surrounding areas, although the going can be a little difficult in some places.
Finally, the area is quite isolated. There are no facilities at the beach and I saw none in the immediate vicinity, so take supplies with you!
Back to the main page here
www.algarvebus.info