FOOTBALL (Soccer) IN THE ALGARVE 2019/2020
Page updated 6th August 2020

THE TOP LEAGUES ARE SUPPOSED TO BE RE-STARTING ON 12th SEPTEMBER. IT IS NOT KNOWN WHETHER SPECTATORS WILL BE ADMITTED.
THE THIRD TIER AND REGIONAL LEAGUES 'MAY' BEGIN TOWARDS THE END OF SEPTEMBER OR BEGINNING OF OCTOBER.

Background to the setup in Portuguese football
Football tours to the Algarve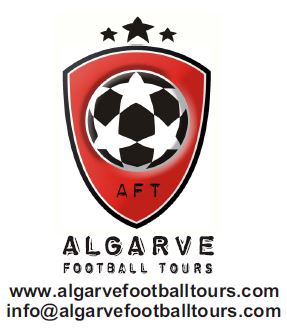 Women's Football Tours to Portugal
WALKING FOOTBALL
Strictly for the over 50's, we are now able to help you with visits and competitions for walking football teams. There are a growing number of active walking football teams in the Algarve. Contact us if you would like a one-off game or perhaps we can organise a small tournament. A 30 team tournament took place in Ferreiras on 1st and 2nd April 2019. A similar event is now set in the calendar for 20th and 21st April. This is now fully subscribed with 48 teams entered, also to be at held at ferreiras Football Club near Albufeira.

This website will be of interest to visitors - https://walkingfootballalgarve.com/ not connected with us, this is the site of the East Algarve Walking Football club.

Liga NOS (Superliga) - eighteen teams

They have fans web site page http://scfarense1910.blogspot.co.uk/ but the quality seems to vary from week to week. It's only in Portuguese despite the UK web address.
Segunda Liga - Liga Pro

There is a fairly large free car park outside, which does get full as it also serves two large apartment blocks. There are other places to park nearby. For those coming by bus, the ground is 4 minutes walk from the main bus stop area on Avenida Guanaré. The railway station is about 15 minutes walk. However, given TV schedules, many games are played at times not allowing journeys by train or bus.
Portuguese FA Cup/ League Cup

Campeonato de Portugal

The Algarve League

The teams for next season following relegations and promotions will include (possibly):
The

Quarteira SC

stadium is a bleak all-purpose municipal facility on the border between Vilamoura and Quarteira. It's only 6 or 7 minutes walk from the McDonalds in Vilamoura. The buses from and back to Albufeira call at a stop about 5 minutes walk away. Map here.



Fe

rreiras

play in their neat ground in the centre of the village, 4km from Albufeira.



Second Division - format for next season is unknown.



Because of ground sharing, the 'default' time for matches in this Division will be 6pm /1800hrs on Saturdays. Most of these grounds have all weather synthetic grass.

The teams last season:

4 ao Cubo – Associação Desportiva de Olhão - Estádio Municipal de Olhão - the little ground in the town
Ass. Farense - effectively the Farense 'B' team and likely to be promoted to the first division as they had won all their games before the season was curtailed.
Carvoeiro United - play in Estombar
Campinense - based in Loulé
Clube Desportivo Maritimo Olhanense - Estádio Municipal de Olhão
Clube Desportivo Odiáxere - Campo das Eiras
Internacional Almancil
Mentes do Desporto - play in Bellavista Stadium, Parchal
Messinense - - play in São Bartolomeu de Messines
Padernense Clube - Estádio João Campos, Paderne
Quarteirense
Quarteira 1937
Sambrasense (play in São Bras de Alportel)
Sharks United - playing at Estombar



Algarve Cup



The grounds
This map shows the various grounds used by the professional and semi-professional clubs based in the Algarve. Zoom in to see a more precise location, click the marker to see who plays there. Many towns have no active senior football clubs, hence the big gaps in the map!

Thew two marked in red are those of Portimonense and Farense, the two top level teams of the Algarve.

Those marked in yellow are, so far as I know, used only by junior age group teams. For interest I have marked, in grey, some of the grounds I know and that are now not used by anyone.
English/Scottish football on TV
Spanish Football?
Very little women's 11-a-side football in played in Portugal. The whole Algarve Region has just one active team, that of Guia FC. They play in the regionalised second tier of the national setup and two seasons running have finished in the top three of their group, but just missed out on the playoffs. Games are normally played on Sunday afternoons, however they do not necessarily play every week. Next season will start mid October.

www.algarvebus.info